José Mourinho
Mourinho waiting for Carrick to step into assistant role as Faria successor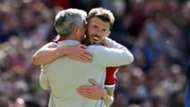 Jose Mourinho will not look for a new assistant manager to replace Rui Faria as he expects retiring Manchester United midfielder Michael Carrick to eventually become his second-in-command.
Faria will leave Old Trafford this summer, ending a 17-year partnership with Mourinho that has lasted through spells at Porto, Chelsea, Inter, Real Madrid and United.
After their second-place finish in the Premier League, Mourinho faces pressure to turn the Red Devils into Premier League challengers next season - no small task after Manchester City ended the campaign with a 19-point advantage.
But Mourinho perceives there to be no need to seek an immediate replacement for his good friend because he sees a long-term successor in Carrick.
The 36-year-old ended his top-flight career by setting up the decisive goal as United ended the campaign with a 1-0 win over Watford and will step into Mourinho's background staff, where a vital role awaits further down the line.
"I will organise my coaching staff in a way where the assistant manager job doesn't exist. I'm going to have coaches, assistant coaches, fitness coaches," the Portuguese told reporters.
"Obviously we have specialists in different areas connected to the performance and my analysts. I'm not going to have an assistant manager.
"The reason is that I think it will be Michael Carrick in the future, when he has his badges and his pro licence and he makes the bridge between the player to an assistant.
"People think one day you are a player and the next you are a coach. It doesn't work like that. You need to practice.
"I have nobody in the world of football ready to be my assistant manager, so I prefer to structure my staff so there is space for their education and improvement, and I think naturally when Michael has his badges, with the personality, friendship and honesty he has, I think the job will be for him."
Carrick joined United from Tottenham in 2006 and has played over 460 games for the Old Trafford side, winning the Champions League and five Premier League titles.