Manchester United
'I had to push him away - he always wants to speak!' - Mourinho plays down Herrera rift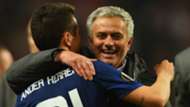 Manchester United manager Jose Mourinho has said that he "loves" his players – and that the feeling is mutual.
Ander Herrera spoke out in frustration after the Old Trafford side suffered a surprise loss to Huddersfield in the Premier League a fortnight ago, sparking rumours of a fallout with the Portuguese, who has insisted that this could not be further from the truth.
Indeed, Mourinho has said that he gets on with all his staff and hit out at the media for stirring speculation.
"I was not speaking with Ander Herrera anymore? Pfft!" he said. "Ander Herrera is the kind of guy that I have to push away because he wants to speak with me all the time! I don't know where you get these kinds of stories but, yes, I am happy.
"I love my players. You try to create a mystery because of my reaction after Huddersfield, but there is no mystery about it."
With three wins in succession behind his team, Mourinho is very content with how the season has panned out to date but would not be drawn on what gave him the most pleasure three months into the season.
"We lost one match in August, September, October. Premier League, Champions League, League Cup - we lost one match," he emphasised.
"So, I think it was easier to ask what was the unpleasant thing, or what thing I didn't like - it was the match against Huddersfield."
On Sunday, Mourinho takes his side to defending champions Chelsea, after leaders Manchester City play host to Arsenal.