Premier League
Why Guardiola and Mourinho have more in common than ever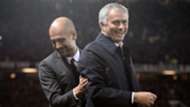 ---
COMMENT
---
The idea of Pep Guardiola and Jose Mourinho living and working in the same city was relished as English football geared up for a bumper Premier League season last summer.
Ibra will fight to save his career - Mou
Despite the presence of Jurgen Klopp, Arsene Wenger, Mauricio Pochettino and Antonio Conte, it was Guardiola and Mourinho going head-to-head in Manchester which really caught the imagination.
But, until now, they have largely kept out of each other's way, both on and off the pitch. Mourinho's light-hearted comments about life at the Lowry Hotel being a "disaster" were blown out of proportion, but he has kept to himself, rarely straying out into the city centre and instead using free time to visit family in London.
Guardiola, who lives less than a mile away, is often out and about: last week he took his staff for a meal at Juan Mata's restaurant, a popular haunt for official City get-togethers, and recently enjoyed Manchester's Spanish festival with friends.
There have been times when they could not help a playful dig, with Mourinho suggesting he could have got a job "where the kitman could win the league". Guardiola has not been blameless either, alluding to United's long-ball tactics and pointing out that certain clubs have gone to Chelsea with a six-man defence.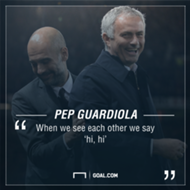 Despite reports that Mourinho arranged to meet Guardiola after the derby in September and then failed to show up, the two embraced warmly before the EFL Cup clash a month later.
Who wins in fight between Pep & Mou?
They have had little to do with each other since, not least when it comes to the league table. City were 10 points clear of United at one stage but they meet on Thursday with just one point between them, the smallest margin since the first derby of the season.
Stylistically, of course, Mourinho and Guardiola have been and always will be poles apart. Last month, as Guardiola was explaining to sceptical fans and pundits that relentless attacking is the best way to protect a lead, Mourinho took his team to Middlesbrough, went 2-0 up and immediately brought on Marcos Rojo for Mata, going five at the back.
But for all the age-old differences of opinion, both men find themselves in remarkably similar situations.
Both inherited squads that required major surgery; United's a patch-work of players identified to fulfil the questionable philosophies of David Moyes and Louis van Gaal, City's an ageing throwback to better days, garnished with expensive signings not up to the job.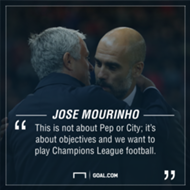 Both identified the problems before they had officially taken charge; Mourinho in the months after he was dismissed by Chelsea, Guardiola almost as soon as the final whistle blew on Bayern Munich's German Cup victory in May. Incidentally, the same day United won the FA Cup and news of Van Gaal's sacking was cruelly leaked.
Man Utd team news & likely line-up
Both set about expensive rebuilds. Mourinho recruited four game-changers in four vital positions, Guardiola sought reinforcements everywhere but, curiously, did not get the defence he wanted.
And both identified players who would need to shape up or ship out. Bastian Schweinsteiger, Memphis Depay and Morgan Schneiderlin never got a look in at United and have already gone. The Portuguese showed tough love to Henrikh Mkhitaryan, Anthony Martial and Luke Shaw, and has had mixed results.
Though Guardiola has been painted as callous for his role in Joe Hart's exit, the England goalkeeper defiantly insisted he did not need to change when the two men sat down in pre-season, a factor which has been overlooked. But the Catalan's own firm approach was in evidence when Yaya Toure was excluded from the squad, while Sergio Aguero has been constantly told to improve, to the point where he could yet leave this summer. Even Nolito, signed in July, has fallen out of favour, seemingly having criticised the manager in private.
And even though City had been as many as 10 points clear of United at one stage this season the two teams have similar on-pitch issues.
Both Mourinho and Guardiola have lamented their players' lack of precision, and indeed both teams have hit the woodwork 18 times in the league this season, with star men Paul Pogba accounting for six of United's tally and Kevin De Bruyne eight of City's.
United have missed 44 clear-cut chances in the Premier League this season, more than anybody else. City are second with 41.
United, interestingly, have created 412 chances this season, 20 more than City, but have scored 13 fewer league goals and have converted just 23 of their clear-cut chances, a worse tally than 10 other teams.
City, contrary to Guardiola's complaints, have actually converted 43 clear-cut chances, the most in the league.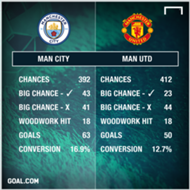 For all Guardiola has bemoaned Aguero's occasionally poor finishing, it is Zlatan Ibrahimovic who has missed 18 clear-cut chances this season - the most - and converted just 7. Aguero has scored 11 and missed 10 of his.
'Fergie mind games a load of crap'
Poor finishing has not been the only issue, of course, and both managers have highlighted the wrong mentality in some of their players, bad luck, the fixture list, injuries and refereeing decisions. Both have gone out of their way to ensure their home fans are noisier, too.
There is an element of truth in everything they say, but the reality is that they are miles off Chelsea, to the point where sections of both fan bases have questioned if it has all been worth it.
Some United fans worry Mourinho is not adhering to the club's traditions of attacking football and bringing through youngsters, while Guardiola has criticised City supporters and struggled to convince some that his attacking style has been worth turfing out club legends.
Heading into Thursday's derby it seems there is more Mourinho in United than there is Guardiola in City, but both men will be given the time and resources to see their projects through.

For all their similarities, they will always dispute which way is best.