Other Competition Matches
Moses Kuria: Thika United will be renamed Mount Kenya United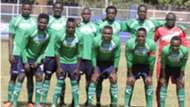 Thika United is set to acquire a new name if plans by Gatundu South MP, Moses Kuria sails through.
The controversial MP has initiated a process to rename the side to Mount Kenya United in an attempt to attract a large fans base across the Mount Kenya region.
Kuria announced his latest plan after watching the team win the first leg of the KPL-playoff battle against Ushuru on Thursday where he promised players a hefty cash reward if they remain in the top tier league.
"Our home team Thika United has won the first leg of the KPL play-off after defeating Ushuru 2-1 in a nerve-wracking, action-packed match at Thika Stadium. I have given a personal pledge of Ksh 300,000 to the players should they win on Sunday and retain their place in KPL 2018. I will also mobilise other leaders in our region to do the same. Next year we will rebrand the team and apply to rename it Mt Kenya United with a view to broadening its support base beyond Thika Town.
"The construction of Karatu Stadium which will be the alternate home venue for the team is very much underway. We are discussing with national and county government for upgrading Thika Stadium to FIFA standards so that we can also host international competitions just like Machakos." Kuria said on his official Facebook page.
If Kuria succeeds with his plan, it will be the fourth time Thika United is changing its name since the team's formation in the year 2000.
Thika United was founded 27 years ago as Beirut FC. It would later be known as Medisca Thika in 2001 and finally to Thika United in 2003.
Kuria, an ardent football lover has been closely following activities of the club having watched their last league match at Kericho Green Stadium on November 18.