Arsenal
More tackles than Kante: Everton's Gueye the answer to Arsenal's feeble midfield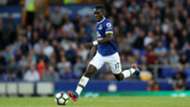 "For me, N'Golo Kante is the best midfielder in the world right now," Everton midfielder Idrissa Gueye recently said, when asked about those who play in his position. "Everyone is talking about Kante. Last season, he helped Leicester win the title and looks set to do it again with Chelsea. 
Hazard drops Chelsea exit hint
Kante was this week included in the six-man shortlist for the PFA Player of the Season award due to his all-encompassing performances for Antonio Conte's table-toppers, alongside Chelsea team-mate Eden Hazard, and looks set to secure a second Premier League title in as many seasons, with two different clubs.
And though Gueye's words about the Frenchman may ring true, the Senegal international has every right to argue he has outperformed him in some aspects this season.
Having now excelled in the Premier League over a two-year period, Gueye is being touted for a move to Arsenal, labelled as the man Arsene Wenger needs to reinvigorate a feeble midfield unit.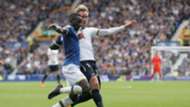 Gueye has surpassed Kante in the number of tackles he has won in the English top flight this season, despite playing 457 minutes fewer than the Chelsea man, and has been more successful in regards to his overall duels. In fact, no player in the Premier League has registered more tackles than Gueye.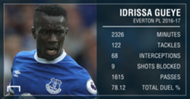 The Everton midfielder has also made more blocks, been successful in a higher number of aerial duels and is more comfortable taking players on than his Chelsea counterpart - Gueye has come out on top of just over 78 per cent of his take ons, with Kante slightly under 74%.
There are notable similarities in their game. Both players provide the base to their respective midfields and allow their creative team-mates to flourish, utilising their ability to read the game to aid their team. But while Gueye's stats suggest he is more involved off the ball, Kante is superior on it and is regularly involved in the build up to Chelsea's goals.
Indeed, Kante has made more forward tackles than Gueye, but also more than Arsenal trio Granit Xhaka, Mohamed Elneny and Francis Coquelin. 
PL my toughest challenge - Ozil
Arsenal have fallen apart on numerous occasions this season and are now fighting desperately for a top-four finish amongst the turmoil unfolding behind the scenes. The Gunners were picked apart by Crystal Palace last time out and go into tonight's tie at Middlesbrough on the back of five defeats from eight - and against one of the most resilient clubs currently residing in the Premier League. 
Wenger may not need Gueye to dismantle a toothless Middlesbrough team at the Riverside on Monday, but to instil the fight once displayed at the Emirates and go some way to finally replacing Patrick Vieira at the club, the under-fire Frenchman could do a lot worse than looking at the Everton man.