Morata wants to 'become one of the best', says Chelsea boss Conte
Antonio Conte has been impressed by Alvaro Morata's start at Chelsea, but thinks he will improve further with age as he aims to become one of the best in the world
The Blues signed the 24-year-old from Real Madrid for £60 million during the summer transfer window to replace AWOL striker Diego Costa, who remains away from England as he seeks a move to Atletico Madrid.
Chelsea 14/1 to beat Arsenal 3-0
Morata has scored three goals and provided two assists in his first three starts for Chelsea, and Conte has revealed that the Spain international is setting lofty targets for the future.
"Morata is a really good striker, don't forget Alvaro is very young," Conte told reporters at Cobham Training Centre. "I think he can improve a lot. Despite being a young player, he has played with Real Madrid and Juventus, in his career he won a lot.
"I think he has great experience, great international experience. We are happy to have him in our team. We are trying to work very hard with him, to adapt himself in our style of football, our idea. For me the striker is very important, very important, but he is a good guy and he wants to improve a lot, he wants to become one of the best."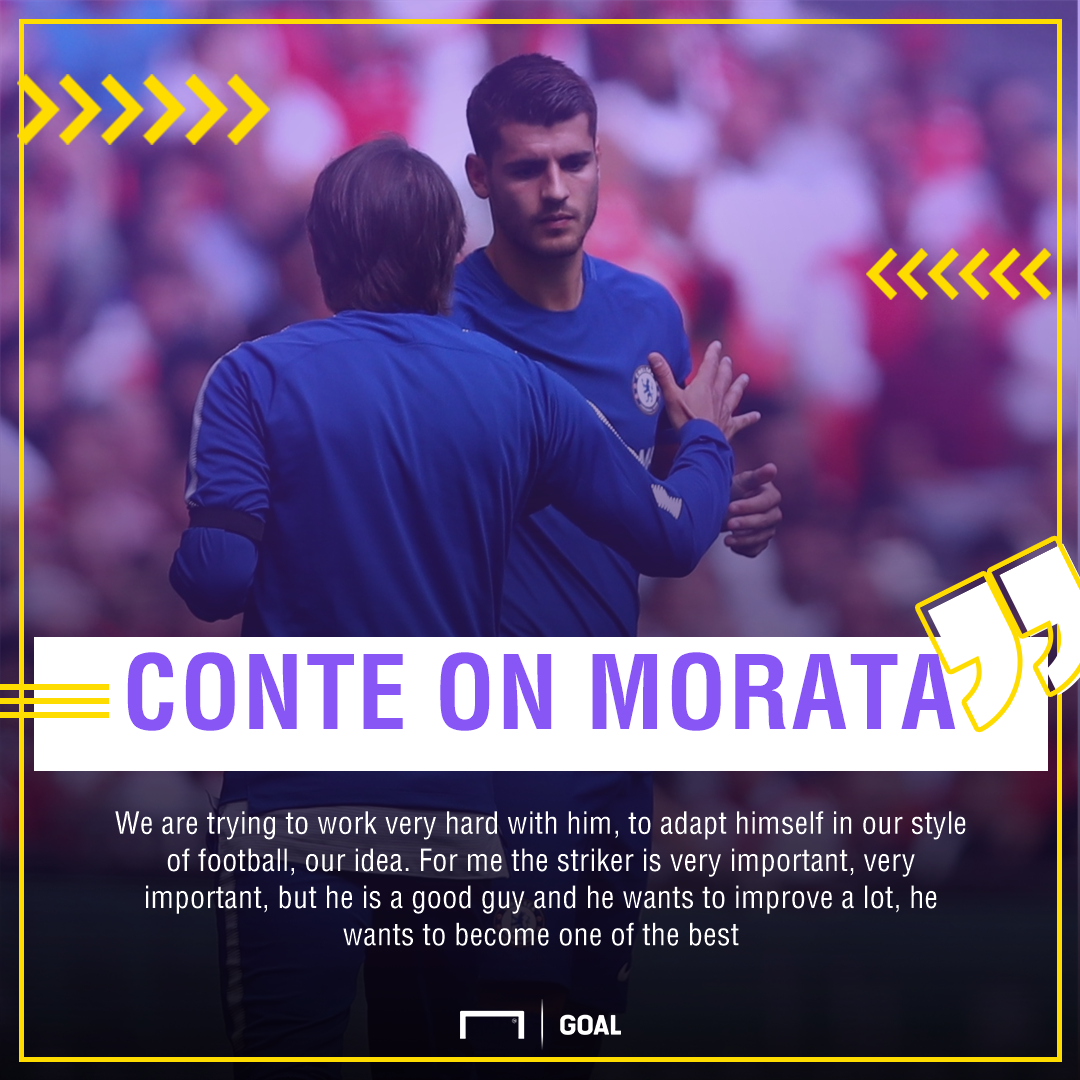 Davide Zappacosta joined Morata in signing for Chelsea over the summer, with a £23 million deal bringing him to Stamford Bridge from Torino on transfer deadline day.
Conte brought in his fellow Italian to add depth in the wing-back positions, and he has already made an impact in the Premier League off the bench against Leicester. He followed up that display by scoring a freak goal in an impressive performance against Qarabag, as he made his first start for the Blues in Champions League competition.
The speed in which Zappacosta has settled has been praised by Conte, as he competes for a regular starting berth with Victor Moses.
"I think he scored an amazing goal, the guy was very honest to tell that he tried to cross, but during the game he had other chances to score. Don't forget against Leicester, he was very close to scoring another goal.
"I think this is positive, he is a really good guy. Davide knew very well my idea of football, for this reason he was ready to start the game against Qarabag. He's in a good physical condition. I am pleased for his performance.
"But now he has to continue to improve himself, to adapt himself in this league. Don't forget this league is not simple. It was positive. When you start your experience, for him also it was the first appearance in the Champions League.
"Also to score the goal you must be happy. Also improve your confidence. I think all positive things about his performance against Qarabag."
Morata is expected to be recalled to the team as Chelsea face Arsenal in the Premier League on Sunday afternoon, but Zappacosta will likely remain on the bench.
Conte arrived at his press conference on Friday with a sickness bug. He was in the early stages of losing his voice but he is hoping a dose of antibiotics can help him to recover enough to continue barking out his instructions on the touchline.
"I hope to solve this situation, from yesterday [when I got sick], I took antibiotics," Conte added. "I also took them today and I will tomorrow, I hope to solve the situation, otherwise… it will be a problem for me.
"In this case, I think the air conditioner was stronger than my sweets. I hope to recover! [so I can continue to shout]. In my office when I arrive I turn off the air conditioning. But when I stay on the bus, I risk a lot, because I suffer with air conditioning."