Liga MX
Monterrey seals top spot, Club America lacking: Five Things from Liga MX's final weekend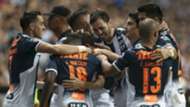 Everything is ready for the "big party" as many in Mexico call the Liguilla. We know the invitees, with Cruz Azul and Atlas booking their place on the final weekend, and we also know who is best dressed as it were. Monterrey took bragging rights and the top seed out of its 2-0 win over Tigres in the Clasico Regio.
It's shaping up to be another fascinating postseason, but first let's look at five things from the final weekend of the Apertura regular season:
---
Monterrey bounces back to earn No. 1 seed
---

After two defeats heading into the Clasico Regio, you could forgive Monterrey fans for being a bit antsy about how La Pandilla would perform against Tigres. Instead of struggling, though, it was a return to form for Antonio Mohamed's men, who delivered a classic Monterrey performance in a 2-0 victory over their crosstown rival. 
As expected, Tigres controlled nearly two-thirds of possession but it was Rayados who created the best scoring chances - and converted.
#NoTeLoPierdas
G⚽⚽⚽L de Avilés Hurtado@Rayados 2-0 @TigresOficial #J17AP2017 #LIGABancomerMX
⚽ #SienteTuLiga ⚽ #AbrazadosPorElFutbol pic.twitter.com/jNtmUsmgZM

— LIGA Bancomer MX (@LIGABancomerMX) November 19, 2017
"We were first the whole season. Really, this game had a bit of excitement because of the the topic of who would get first place, but we've been in this spot the whole season and today we defended it on the field," Mohamed said after the match. "I think for a large part of the game we were the much better team on the field."
Monterrey has been the best team in the league this season and closes out the regular season with the most goals scored and the fewest allowed. You don't need to have a long memory, though, to remember back to last spring when Rayados had dominated the regular season but fell short of the title with a loss to Pachuca in the final.
This year, the stakes would be even higher if seeding holds as it would mean two more Clasicos with No. 2 seed Tigres. That may produce bad flashbacks from this year's playoffs when Tigres dominated the first leg and handed Monterrey a rare home defeat to move on easily, but this Rayados team is much better built. That matchup may be the neutral's preferred final both because of the stories it would produce and the contrast of football we've seen from the teams this season and on Saturday.
---
Cruz Azul does its job to snap skid
---

Last week, we talked about how everything was setting up for a classic Cruz Azul collapse. The team hadn't become the butt of memes and jokes for nothing, and with its playoff fate hanging in the balance, there was every chance La Maquina would blow it.
Instead, they got the job done by topping Veracruz 1-0 at home, moving into the playoffs after Atlas' draw against Pachuca and Morelia's 2-1 victory over Necaxa. It snaps a long drought for the 'grande', which missed the Liguilla in six consecutive tournaments.
#NoTeLoPierdas
G⚽⚽⚽L de Felipe Mora@Cruz_Azul_FC 1-0 @ClubTiburones #J17AP2017 #LIGABancomerMX
⚽ #SienteTuLiga ⚽ #AbrazadosPorElFutbol pic.twitter.com/yAEsRcMc7A

— LIGA Bancomer MX (@LIGABancomerMX) November 19, 2017
Now the challenge for manager Paco Jemez is to get his team out of the quarterfinals for the first time since the 2013 Clausura. The football the team has played this season rarely has impressed, but Jemez's side has been able to grind out results. Against an America that enters the Liguilla looking vulnerable (see point four), could Cruz Azul pull off a shock in the Clasico Joven?
"We're really happy. The guys deserve a game like today and deserve the win. To qualify after six tournaments without doing it is the product of hard work. I'm really proud and satisfied," Jemez said. "We don't want to get into the Liguilla and, as they say in Spain, 'cagarla,'" he continued, using a term meaning to 'screw up' or 'crap the bed'. "We must go out and die bravely."
---
Concerning close for Leon
---

A few weeks ago, Leon was the hottest team in the league. After topping Tigres 1-0, the team had won six consecutive matches since the arrival of new coach Gustavo Diaz and was a lock for the Liguilla. La Fiera were able to make the playoffs as the seven seed, but the last two weeks are cause for concern for fans in Guanajuato.
Leon's 2-0 loss to Chivas this weekend follows a lackluster 2-1 loss to Tijuana. Neither of those teams are in the playoffs nor are they the quality of team Diaz's squad will face when they meet Tigres in the quarterfinals. 
#NoTeLoPierdas
G⚽⚽⚽L de Isaac Brizuela@clubleonfc 0-2 @Chivas #J17AP2017 #LIGABancomerMX
⚽ #SienteTuLiga ⚽ #AbrazadosPorElFutbol pic.twitter.com/KPQC3kc3Mc

— LIGA Bancomer MX (@LIGABancomerMX) November 19, 2017
Diaz doesn't seem to be stressing about his team's form. "We know today wasn't a good game, but the first goal has been accomplished. What's important now is the Liguilla, and we should be happy with that," he said after the loss to Chivas.
"We're calm. We have talented players who know how to play in Liguillas. The first goal was to qualify. After that, the team that is coming is going to come."
But the team coming is Tigres. Diaz was able to get a victory over Tuca Ferretti's side during the regular season. To knock off the second seed, Leon's midfield will have to take control of the series like it did in that game in October and not perform like the contests against Tijuana and Chivas - both of which were controlled by Leon's opponent.
---
America lack something despite securing No. 3 seed
---

America found the goal it needed against Santos Laguna, with Guido Rodriguez's rocket solidifying a 1-0 victory Sunday over Santoa Laguna. The three points allowed Las Aguilas to jump into the third spot, giving them a more manageable playoff matchup and home-field advantage in at least the quarterfinals.
#NoTeLoPierdas
G⚽⚽⚽LAAAAAZO de Guido Rodríguez@ClubSantos 0-1 @ClubAmerica #J17AP2017 #LIGABancomerMX
⚽ #SienteTuLiga ⚽ #AbrazadosPorElFutbol pic.twitter.com/ahB4V6nC53

— LIGA Bancomer MX (@LIGABancomerMX) November 20, 2017
While there's celebration of the result and also of the fact that America is facing what's seen as an inferior Cruz Azul team, those celebrations could be short-lived. It's been an up-and-down season for America and it was closed out in the down position. The attack that was finding the back of the net without issue for most of the year suddenly is sputtering. You have to go back eight games in all competitions to find the last time Miguel Herrera's men scored multiple goals in a match.
It's a high bar at America. It always is, but Herrera's return and strong form during the middle of the campaign set off a wave of hope in the capital that still remains even with the team slipping. The coach knows the situation well and has done nothing to dampen expectations.
"We're still missing something. We know that we're lacking but what I like is that we're demanding," Herrera said after the Santos match. "I've never heard a coach say that you fail if you're not a champion. Here, it's not like that. With me the team has to get used to the idea that if you don't get to the final and you don't win it, it's a failure. We demand more of ourselves, what the team deserves to be: a great team with high demands."
There's a wide gap between understanding the expectations and fulfilling them. America must improve up top and at the back if Herrera's goals will be met in his first tournament back in 'the nest.'
---
Battle of quiet threats set
---

Every tournament the Liguilla produces some excellent quarterfinal matchup that ends up taking attention away from a very good series with dangerous teams. This year, that series is the No. 4 vs. No. 5 matchup that pits Morelia against Toluca.
Morelia has relied on its defense for most of the campaign but even without suspended Diego Valdes was able to put two past Necaxa's usually staunch unit Saturday in a 2-1 victory to clinch home-field advantage in this series. Monarcas would've been as high as third had it not been for America's late goal - marked improvement for a team that last season needed a dramatic late goal not only to clinch postseason play but to stay in the first division at all.
Monarcas manager Roberto Hernandez has been somewhat harsh on his side this season, which outperformed nearly everyone's expectations but his own, but he did heap credit on his players after the weekend.
"You're not anything without the players, and that's why I never get tired of thanking them and admiring what they do," he said. "We've got to keep working to achieve all the dreams we have." 
#NoTeLoPierdas
G⚽⚽⚽L de Raul Ruidíaz@ClubNecaxa 0-2 @FuerzaMonarca #J17AP2017 #LIGABancomerMX
⚽ #SienteTuLiga ⚽ #AbrazadosPorElFutbol pic.twitter.com/j9Zsjb6WvX

— LIGA Bancomer MX (@LIGABancomerMX) November 19, 2017
The path goes through a tough Toluca side that flexed its attacking might in a 3-1 victory over Tijuana to close out the season. It's been a while since manager Hernan Cristante's team was able to impose itself on an opponent like Tijuana, and while the Argentine coach was pleased at Sunday's display he also knows the challenge against Monarcas will be much larger.
"The group, the players, the team has done really well. They've closed out the regular season in a great way," the Argentine said. "We're calm. Now a tournament is coming that is played with more intensity. They're distinct matches and you have to face them maybe in a more intense way, maybe smarter."
Whichever team is able to outwit the other and move into the semifinals will be a title contender, even if they're not likely to get as much hype as some of the other sides involved.
---
Goal of the Week
---
#NoTeLoPierdas
G⚽⚽⚽L de José Madueña@atlasfc 1-0 @Tuzos #J17AP2017 #LIGABancomerMX
⚽ #SienteTuLiga ⚽ #AbrazadosPorElFutbol pic.twitter.com/Dq47XWyUmI

— LIGA Bancomer MX (@LIGABancomerMX) November 18, 2017
We don't have enough headers as Goal of the Week, nor do we have enough that recognize a good run. Atlas midfielder Jesus Maduena both runs and heads beautifully in this week's goal, spotting a channel right down the center and looping his header over "Conejo" Perez to help Atlas into the playoffs.