Mohamed Salah
David James- Mo Salah's Messi and Ronaldo comparisons are justified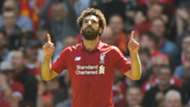 Liverpool's prolific frontman Mohamed Salah deserves to be compared to Cristiano Ronaldo and Lionel Messi, according to former Reds goalkeeper David James. 
Salah has had a phenomenal debut season with Liverpool which has seen him score 43 goals and break a host of records along the way. He also claimed the Premier League's Player of the Year prize, along with other accolades including the PFA Players' Player of the Year gong. 
Having posted numbers which compare with two of football's biggest names, Messi and Ronaldo, the former Liverpool goalkeeper feels that comparisons of Salah with the two talismanic figures are justified. In fact, Cristiano Ronaldo has scored 43 goals in all competitions for Real Madrid this season while Messi's tally for Barcelona stands at 44. 
"When you look at Ronaldo, he has earned the right to be the best player in the world," the Kerala Blasters manager told Goal. "Messi has earned the right to have been the best player in the world and arguably still the best in the world depending on what camp you are in. The comparisons from this season's performances are justified. He (Salah) has been phenomenal.
"Having stood next to the guy (Salah), he is tiny. I am surprised. On the pitch, he looks massive with his performances. He is a very small man."
James went on to praise Salah's work ethic and attitude on the pitch despite seeing his stock skyrocket.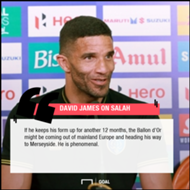 "I watched the game the other day where he scored four goals (Liverpool vs Watford on March 17). And at 84 minutes, he already got a hat-trick and he was still running after the ball, trying to get the ball back, trying to close players down," he assessed. 
He thinks that Salah, who will spearhead Liverpool's attack when they go up against Real Madrid in the Champions League final on Saturday, might just break Ronaldo and Messi's hegemony on the Ballon d'Or trophy as well. 
"If you are a kid growing up watching football, you watch the performances of Mohamed Salah and you are looking at what top footballers do.
"If he keeps his form up for another 12 months, the Ballon d'Or might be coming out of mainland Europe and heading his way to Merseyside. He is phenomenal."