Mohamed Salah is the signing of the summer so far as Liverpool's attack looks frightening!
Last Updated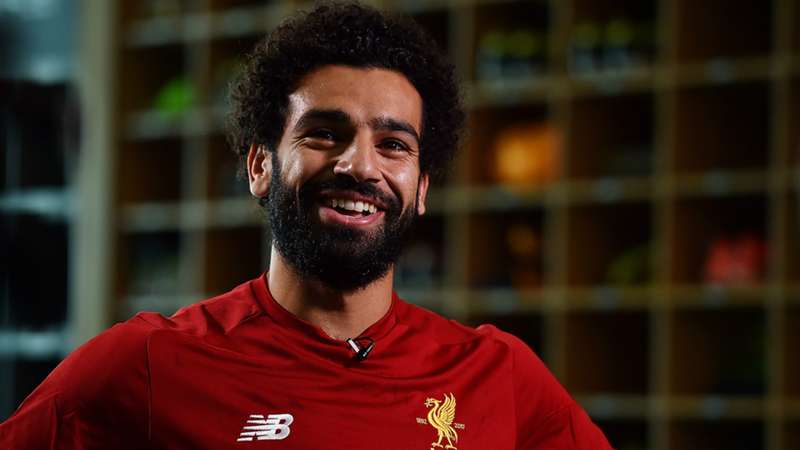 Getty
---
COMMENT
---
When Liverpool's recruitment team were sketching the profile of forward that could complement and aggrandise the club's already formidable attack this summer, one player continuously featured prominently in every element of their criteria.
It was not the first time his attributes and accompanying data illustrated his suitability to the Merseysiders, so his dominance during the analysis came as no surprise.
Almost four years after Mohamed Salah was initially seduced by a move to Anfield before Chelsea became the ones to agree a fee with Basel, the Egypt international is a Red.
How LFC could line-up with Salah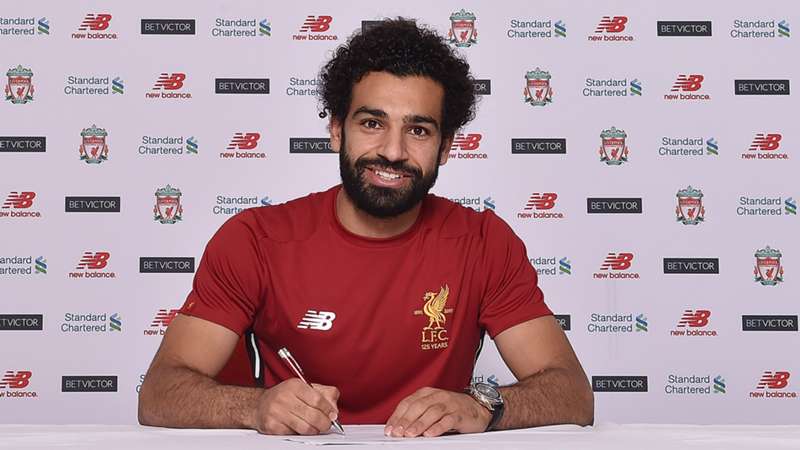 A deal was finally completed on Thursday , following lengthy negotiations with Roma and the forward passing a medical. If anything, time has only served to solidify Salah's status as a perfect fit for Liverpool given his output in Serie A, first on loan at Fiorentina and then with the Giallorossi.
Anyone drawing greater focus to his 'failed' spell at Stamford Bridge ignores Chelsea's history of getting shot of talent too soon - Kevin de Bruyne and Romelu Lukaku being just two off a substantial list.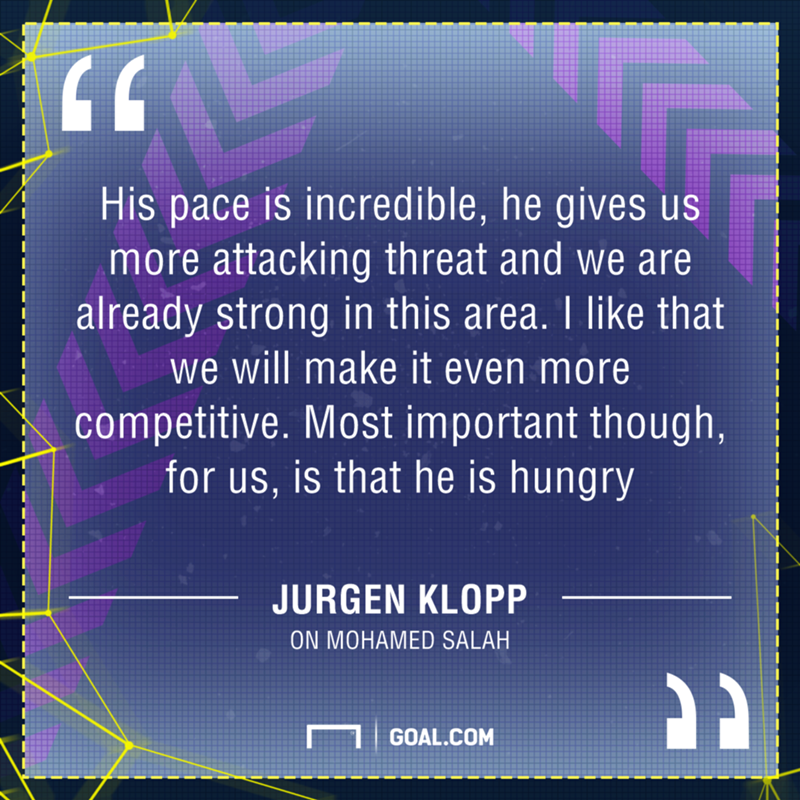 Jurgen Klopp had designs on bringing in Julian Brandt from Bayer Leverkusen as a wide option, but the 21-year-old did not want to move and risk his playing time diminishing. He understood he would need to grow into Liverpool's attack, Salah on the other hand, galvanises it.
In this current market of excessive and often ridiculous valuations, the Merseysiders have done excellent business to recruit such an elite, stylistically perfect player for under £40m.
Salah delivers - a goal or assist every 94 minutes last season proves as much - but beyond that, he will help further the authoritative, fluid approach Klopp advocates.
The German wants his side to dominate the ball and space, to smother and swarm. The signing of Sadio Mane last summer enabled the club to implement his blueprint, especially at the start of 2016-17 with most of the first XI fully it, and Salah will amplify it.
The Egyptian will reduce the dependance on his African compatriot's pace, directness and contribution in the final third.
Rapid even in full flow, former Fiorentina manager Vincenzo Montella remarked that "maybe only Leo Messi is quicker than Salah with the ball at his feet."
The difference Mane's speed made to Liverpool last season cannot be understated, and was explicit during his absence both through the Africa Cup of Nations then injury.
Salah provides another devastating outlet, another opportunity to transition quicker, and another nightmare for markers to navigate.
If he is stationed on the right of the front three with the Senegal international on the opposite flank, it will enhance the club's inside creation with their diagonal runs set to twist and torture defences.
When they switch, it'll supply the Reds with more weaponry on the outside to vary their attacks and pose more problems for the opposition to counter.
The duo, along with Roberto Firmino, can all interchange to accede to Klopp's demand of being flexible in game.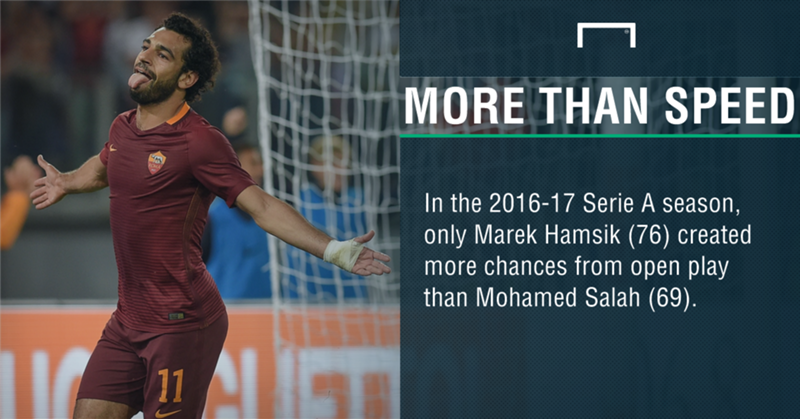 Salah can effectively operate as a focal point or second striker too if required having done so for Roma.
Dropping him into the front three would see Philippe Coutinho move into midfield, where he can have greater influence on a game and inject creativity especially against low blocks.
The prospect of the Brazilian feeding the darts of the speedsters as well as Firmino's smart movement is something Liverpool supporters should get genuinely giddy about.
Salah is more than pace, goals and assists. He is tireless, loves to press, and is as aggressive out of possession as he is in it.
Luciano Spalletti, who had the wonder of witnessing this first hand from Roma's dugout explained: "He has picked up fantastic, brilliant habits. He was running to recover a lost ball in the 75th minute [while 4-0 up against Palermo].
"This is the right path to follow. If every player in our squad applied the same level, we'll get so much satisfaction from games. These are the right habits."
It is also the kind Klopp values and prioritises. Salah undoubtedly elevates the quality at the 50-year-old's disposal, empowering him to rotate his industrious players more often.
The 25-year-old will be determined to race into stride much like Mane did during his debut campaign at Anfield, and while the Reds have no doubts over his ability to be as instrumental, it will be interesting to see how they plan for the potential absence of both during AFCON 2019.
That is a problem for then, Liverpool have secured themselves a splendid player that will make a difference now.
More of the same, please.