Mohamed Salah
Mohamed Salah and Dominic Solanke prove Liverpool's transfer business isn't some big disaster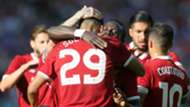 ---
  COMMENT 
---
All the noise, seemingly amplified by the hour, has centered around the signings Liverpool haven't made. At a celebratory Olympiastadion on Saturday evening, with 54,279 in attendance, it was the recruitment they have done and its knock-on effect that left Hertha Berlin a distant second best.
As the obsession for blockbuster transfers intensifies, fine work increasingly gets fobbed off into the shadows during the summer.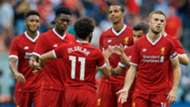 Not here. Not as both clubs marked their 125th anniversary. And not following what felt like something out of the Book of Revelation on Twitter after the news last week that the Reds would be shelving their interest in RB Leipzig's Naby Keita.
Under-20 World Cup winner Dominic Solanke, brought in following the expiry of his contract with Chelsea, much to Antonio Conte's chagrin, scored the first and created the second, before the club's record purchase Mohamed Salah provided further evidence that his initial £36.9 million fee is an absolute snip in this market.
Left-back Andy Robertson, who cost less than one third of that having made the switch from Hull City, got his first outing for the Merseysiders in the second half of the 3-0 victory and immediately showed how his qualities marry into what the squad requires.
Liverpool haven't done enough business and desperately need to fortify the heart of defence. But that does not mean the shrewd moves they have completed can't be appreciated.
"That's exactly how it is," Jurgen Klopp said on the subject afterwards. "We are not where we want to be yet, but that is what pre-season is for. We have to work really hard now because we've got a long, long journey ahead. In this moment, it's good that everyone looks really positive, in tune, and that's how it should be.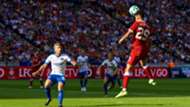 "The new players are maybe better than people thought they will be! I think we said it early that we want to build on the squad from last year, and that's what we've tried to do.
"For the moment, we're really happy. We don't have many injuries now, which is the best news and if we can stay fit, we can be very strong.
"Unfortunately, the other teams are also really pretty strong in England, so we no choice but to be at our highest."
Solanke, who only started the match due to Divock Origi getting a tight hamstring during the warm up, again displayed his all-round attributes.
From his debut against Tranmere Rovers, to his goal against Crystal Palace and the performance he delivered against Hertha, the 19-year-old is showing his manager he'll force his way into the line-up.
The forward's movement for the opener invited Adam Lallana to clip a lovely ball to him, which he serviced with a looping header beyond Rune Jarstein.
For Liverpool's second, Solanke pressured Fabian Lustenberger, winning back possession and feeding Sadio Mane who in turn set up Gini Wijnaldum.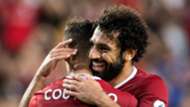 Technique, a tirelessness, an appetite to create and score goals from the teenager have been termed "wonderful signs" by Klopp.
Salah, meanwhile, again combined gloriously with Philippe Coutinho for the final strike of the evening.
The Brazilian international received the ball, casually turned Vladimir Darida before transforming five markers into bystanders. He spotted the speedster ready to exploit the space between Karim Rekik and Lustenberger, packaged a phenomenal pass into his path, which Salah dinked over Jarstein.
The purchase of the Egyptian allows Coutinho, wanted by Barcelona but not for sale at any price this summer, to play deeper and assume the role of Liverpool's creative architect.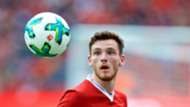 Robertson revealed earlier in the week that he is still learning what his team-mates need from him. But a forward-thinking ball out to Roberto Firmino on the left byline followed by a supporting overlap and dangerous cross across goal is exactly it.
"You could see exactly what he's good in and where he has to improve in 45 minutes - speed, good crosses, flexible and all that stuff," Klopp said of the 23-year-old.
"We are a dominant football team, or want to be a dominant football team, so you need the players who can make the difference, especially on the wing.
"He was good in defence, apart from one or two situations - but it's always like this - we left him alone, like we left Alberto Moreno in the first half alone.
"Then Hertha on the wings are strong and they have too many options inside, through the legs or whatever, and they chose the right thing very often.
"He needs to improve but he's a really good boy with a lot of perspective."
Liverpool have shown thus far in pre-season that they're shaping up solidly.
There is still plenty of room for advancement on the pitch, and in the window. The 'who is next?' trend is an insatiable beast, but it shouldn't consume those who have already been secured.