MLS
MLS Talking Points: Union battle winless slide, rivalries galore headline Week 7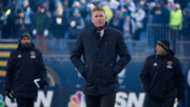 When Major League Soccer set up Week 7 to feature the first rivalry-filled schedule of the season, it probably didn't expect so many of the participating teams to be short on wins. That's where clubs from Seattle to Colorado, the New York Red Bulls and Vancouver find themselves heading into a weekend their fans will have had circled on their calendars.
One team starving for a victory is the Philadelphia Union. Jim Curtin is under fire for his side's 0-3-2 start, but Union fans are getting desperate because they haven't forgotten that their team ended 2016 on a losing slide. That suddenly makes New York City's visit to Talen Energy Stadium on Friday a crucial one for the Union. 
Seattle Sounders fans will feel a little conflicted this weekend, as they prepare to face the rival Vancouver Whitecaps and former Sounders standout Fredy Montero. We will see a few such reunions around the league, with Portland defender Lawrence Olum taking on Sporting Kansas City and former Colorado defender Mike Petke coaching against the Rapids in the Rocky Mountain derby for the first time with Real Salt Lake.
USA aiming to win 2026 World Cup
Here is a closer look at the key talking points heading into MLS Week 7:
---
IT'S A BIG WEEKEND FOR ... THE UNION
---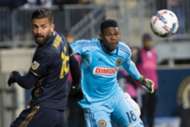 Curtin has done his best to keep putting a brave face on during the Union's winless start, which has his team sitting as one of only two clubs without a win (Montreal being the other).
"Every team goes on a good run, every team has a bad spell. We're in a bad spell right now," Curtin told reporters on Wednesday. "Charlie Davies brought it up yesterday in a group meeting. They lost eight games in a row in New England (in 2014) and played in the MLS Cup. It's a league where there's a lot of parity. We have to fight our way out." 
If there seems like a premature sense of urgency around the Union it has to do with the fact that they ended the 2016 in a similar slump, going eight matches without a win (including a playoff loss to Toronto FC). Combine that rut with the 2017 start, and you're talking a 13-match winless skid that extends back to August.
PODCAST: Schweini's impact in MLS so far
A win won't come easy against a New York City FC team that has the attacking weapons to cause problems for a Union defense that has looked vulnerable at times this season. That NYCFC attack didn't look particularly dangerous in last week's 1-0 loss to D.C. United though, so the Union can take confidence in knowing that NYCFC's offense can be stopped.
The big question is whether the Union's own weapons can get going after starting the season managing just five goals in five matches. Attacking midfielder Roland Alberg's struggles with fitness have forced Curtin to play Alejandro Bedoya in an attacking midfielder role when he would probably be better suited as a box-to-box midfielder, or even a winger. Bedoya hasn't looked comfortable trying to play the role of lead creator, but the Union may have no choice against NYCFC if Alberg still isn't 90-minutes fit.
The reality of the Union's slow start is that their schedule has been a tough one, with three matches on the road and two home games so far against league powers in Toronto FC and the Portland Timbers. Despite that schedule, the Union have had some opportunities for victories, but fell short in Vancouver in the season opener, and played poorly on the way to a loss against D.C. United.
"We know that we haven't performed how we want to on the field, but we know if we continue to believe in the system we have, we will get the results that sometimes we deserve," Curtin said.
---
DON'T MISS ... TIMBERS vs. SPORTING KC
---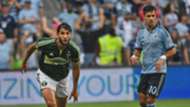 Ever since Saad Abdul Salaam's penalty kick hit both posts in the dramatic playoff shootout that sparked Portland's run to an MLS Cup title in 2015, the Timbers-Sporting Kansas City rivalry has had some added spice.
The Timbers won both meetings last year, by a combined score of 4-0, but that task should be tougher this time around against a Sporting KC side that will enter Sunday's showdown boasting the stingiest defense in MLS. With Tim Melia playing well in goal, Ike Opara enjoying an excellent start to the season in central defense next to Matt Besler, Graham Zusi settling into his new role at right back and Seth Sinovic looking sharp at left back, Sporting KC has the defensive strength to slow down a Timbers attack that has scored the most goals in MLS, and has definitely looked like the most dangerous attack in MLS.
"I think it's going to be a really difficult, tight game," Timbers coach Caleb Porter said. "We've had some really good battles with them over the years. They're a good team. They're mentally strong, they're well organized. They've got good players, they've got a good coach.
"They're, historically speaking, good on the road," Porter added. "They come on the road, they grind. It's defense-first for sure. They wait for you to make mistakes. Counters, set pieces, you look at that reflected in their results on the road this year in the 0-0 draws that they've had."
Sporting Kansas City has yet to allow a road goal this season after two road matches, including a 0-0 draw against Toronto FC. The Timbers will be a much tougher test though, especially with Diego Valeri and Fanendo Adi playing some of the best soccer in the league at the moment.
---
RIVALRY WEEK FEATURES STRUGGLING TEAMS
---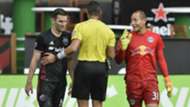 MLS loves to cluster rivalry matches into specific weeks of the year, and Week 7 serves as the first such week of the 2017 season. Three high-profile rivalries make their debut for the year this weekend, and each features teams struggling for points.
D.C. United's first trip to Red Bull Arena this year sees Ben Olsen side take on a Red Bulls squad winless in four straight. The Red Bulls have wrested control in the rivalry away from D.C. United in recent years, even if D.C. has still found ways to frustrate the Red Bulls. Right now the issue for Jesse Marsch's squad is re-adjusting to the 4-5-1 system after starting the season in a shift to a 4-4-2 that never did quite take. Last week, the Red Bulls went with the 4-5-1, but failed to score a goal in a 1-0 loss to Orlando City.
Petke faces one of the teams he played for during his days as a hard-nosed defender when his Real Salt Lake squad visits the Rapids. The latest installment of the Rocky Mountain rivalry features an RSL side adapting to its new coach in Petke, while the Rapids undergo their own transition after trading away starters Sam Cronin and Marc Burch in deal made to clear cap space to help boost an attack that needs more firepower.
Seattle heads north to take on Cascadia rival Vancouver in a derby that will have some added spice due to the fact it will be the first time the Sounders take on Montero as an opponent. The former Sounders striker turned heads when he signed with the Whitecaps, but players playing on both sides of a rivalry is nothing new in MLS. As much as that reunion will garner some headlines, the fact both teams are sitting on just one win makes this installment of the Cascadia derby even more crucial.
What USA stars will be ready for 2026 WC?
There are some other fringe rivalries taking place, such as the Trillium Cup rivalry between Columbus and Toronto FC, and the I-95 derby between the Union and NYCFC. Fans of the Chicago Fire and New England Revolution who have long memories will remember the fierce battles the Fire and Revs had a decade ago when they were battling for Eastern Conference supremacy, but calling it a rivalry these days is a bit of a stretch. The Fire's return to competitiveness could help rekindle it though.
---
MATCHUPS TO WATCH
---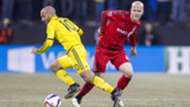 Federico Higuain vs. Michael Bradley. The Crew sorely missed Higuain's presence last week, as evidenced by their zero goals. 
Diego Valeri vs. Roger Espinoza. There hasn't been a better player in MLS through six weeks than Valeri, but Espinoza has the engine to pester the Timbers playmaker.
Dax McCarty vs. Lee Nguyen. McCarty has been playing very well in recent weeks, but so has Nguyen, making this clash fun to watch 
Clint Dempsey vs. Matias Laba. After struggling to keep Albert Rusnak under wraps in the snow last week, Laba faces another tough assignment in Dempsey.
Steve Birnbaum vs. Bradley Wright-Phillips. If Birnbaum is going to push his way back up the U.S. national team depth chart, he needs to win battles like this one.
Darlington Nagbe vs. Graham Zusi. The U.S. teammates face off in an intriguing matchup. Nagbe knows Zusi's defensive weaknesses, but Zusi will also make Nagbe put in defensive work in this good battle.
Chris Wondolowski vs. Matt Hedges. FC Dallas needs to keep tabs on Wondolowski, but Marco Urena showed he's capable strike partner for him. If Walker Zimmerman can handle Urena, we could see quite a bit of Hedges trying to stay with the elusive Wondolowski.
Fanendo Adi vs. Ike Opara. Adi has been in terrific form this season, using his combination of size, speed and technical ability to dominate opposing defenders. Opara has been equally impressive on the defensive side of the ball to start 2017, and has the athletic ability to handle the Nigerian striker.
Kellyn Acosta vs. Anibal Godoy. Two players off to strong starts to 2017 square off in a matchup that will go a long way to determining who leaves Avaya Stadium with a win on Friday.
Cyle Larin vs. Jelle van Damme. Orlando City has struggled to generate looks for Larin, and those chances won't come any easier with van Damme around to help corral the Canadian striker.
---
WEEK 7 PREDICTIONS
---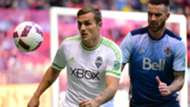 UNION 2, NYCFC 1. The Union are in desperate need of a victory, but their winless record doesn't tell a true story of their ability. Being at home should help against a NYCFC side still trying to find its identity. Alejandro Bedoya and Chris Pontius lead the way.
Whitecaps 1, SOUNDERS 2. Vancouver's nightmare in Utah last week could be written off due to the snow, but the Whitecaps defense will be tested once again by Seattle's vaunted attack. Clint Dempsey and Jordan Morris find the net.
Earthquakes 0, FC DALLAS 2. The Earthquakes are better at home than on the road, but FC Dallas is playing at a different level than the rest of the league, and has the defense to stifle San Jose's attack. Kellyn Acosta shines and Cristian Colman scores in the latest Hoops win.
Impact 1, ATLANTA UNITED 3. Montreal is mired in a poor start to the season while Atlanta United is flying to start its first campaign in MLS. Easy game to call, right? With Ignacio Piatti still injured and Marco Donadel suspended, Atlanta United should see Miguel Almiron thrive on the way to a big road win.
Orlando City 1, LA Galaxy 1. The Lions defense has been rock solid to start the new year, but a Galaxy team finally returning to health as a group will be a handful. The Galaxy could grab the road win, but Orlando City keeps Gyasi Zardes under wraps for a draw.
FIRE 2, Revolution 1. With Juninho back from suspension, the Fire should push Bastian Schweinsteiger further up field, and he will be key to breaking down a Revs defense that has looked very sharp the past two weeks. Nemanja Nikolic leads the Fire to a key home win.
RED BULLS 2, D.C. United 0. The Red Bulls are mired in a four-match winless streak, and Jesse Marsch appears ready to bring back the 4-5-1 system the team used in previous years. That change should bear fruit against a D.C. side that has put together a pair of home wins, but remains light in the attack and vulnerable defensively.
Crew 1, TORONTO FC 2. A return to MAPFRE Stadium should help the Crew after last week's loss to Chicago, but TFC has the weapons to exploit rookie defender Alex Crognale if Jonathan Mensah isn't ready to return from injury. Justin Meram has been in good form, but Toronto's defense should rebound well after showing some flaws against Atlanta United.
DYNAMO 3, Minnesota United 1. The Loons defense returned to their leaky ways last week against FC Dallas, and won't find the going much easier against a Dynamo side that has been ruthless at home. Erik 'Cubo' Torres adds to his MLS goals lead in this romp.
RAPIDS 1, RSL 0. Mike Petke's tenure as RSL coach started in perfect fashion, but he'll find the going tougher on the road against a Rapids side that is tough to beat at home. Tim Howard and Nick Rimando trade tough saves, but the Rapids find a winner.
TIMBERS 2, Sporting KC 1. The league's top attack against the league's stingiest defense, who wins? Give Portland the edge, with Diego Valeri continue his MVP form and David Guzman neutralizing Benny Feilhaber.