MLS
MLS Talking Points: Young goalkeepers collide, reunions galore and more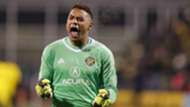 It may feel like an eternity since the Major League Soccer playoffs stopped play for the international break, but the two-week hiatus is now over and the remaining teams must try to recharge the momentum that has led them to be one of the league's final four.
The good news is we are set to be blessed with a pair of conference final series loaded with storylines, subplots and the potential for some attractive soccer. We've seen a fair share of ugly matches so far this postseason, but the four teams left all have the attacking weapons to make the fight for MLS Cup berths very entertaining.
The international break couldn't have come at a better time for the Seattle Sounders, with the defending champions having the opportunity to rest up and heal up over a nearly three-week layoff. The potential returns of Osvaldo Alonso and Jordan Morris, coupled with the recuperation of Victor Rodriguez, could give the Sounders the weapons they need to knock off the upset-minded Houston Dynamo.
In the East, the Columbus Crew will look to continue their Cinderella run by beating a Toronto FC side that just might be vulnerable due to the first-leg absences of suspended stars Sebastian Giovinco and Jozy Altidore. It should be an emotional night at MAPFRE Stadium, as the Save the Crew movement rages on amid the subplot that has owner Anthony Precourt plotting to move the team to Austin, Texas. On the field, the Crew will look to continue their impressive form at home, where they are 7-0-1 in their past eight matches.
Here is a closer look at some of the key storylines to follow in the MLS conference finals:
---
YOUNG GOALKEEPERS SQUARE OFF
---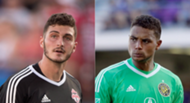 Before they were pros, and even before they had played in college, Zack Steffen and Alex Bono had crossed paths in their journey as young goalkeepers. They first faced off in the youth club team ranks before fate would bring them together for a U-18 national team camp in 2012 where they spent time as teammates.
"We trained there about a week and became friends there," Steffen told Goal of the first extended time he spent with Bono, who were joined in that same camp by U.S. national team and Club Brugge goalkeeper Ethan Horvath. 
"Zack's kind of always been one of those kids that had a high amount of buzz around him," Bono told Goal . "I played against him in the (Development) Academy. Back then all the kids would look at player rankings of the kids coming up and which kids were in the youth national teams so he was always a kid I knew about because of that.
"He's also grown to be a friend of mine, and we've been able to talk in the couple of games we've played this year," Bono said of Steffen. "He's had a really good year. He's an incredible talent, I think there's a lot of upside to his game, and you can see the maturity he's gained throughout the season and how much he's improved."
Steffen has seen similar growth in Bono over the course of the year.
"He leads from the back and he's very composed. He looks like he's been playing in MLS for a few years," Steffen said. "He's a good shot stopper and his feet are pretty good. I'm happy that he's been doing so well."
Both Bono and Steffen have flourished in their first full seasons as pro starters and played themselves into the conversation of potential future national team netminders. They both have already taken part in U.S. national team camps before, and they should be leading candidates to be called in for the next annual January national team camp.
The Eastern Conference finals should offer them each the chance to stake their claim as the top young American goalkeepers in MLS, a conversation that should also include FC Dallas standout Jesse Gonzalez. The East finals will offer both Steffen and Bono the opportunity to impress U.S. coaches even more, but neither would say they see the series as a chance for them to top the other.
"I don't look at him and say he's national team competition for me," Bono said of Steffen. "He's a fantastic player, and I'm sure he'll get an opportunity with the national team at some point and I know he'll make the most of it.
"As for me, the national team isn't something I'm thinking about now. I know if you play well for your club then opportunities can come."
---
REUNIONS GALORE
---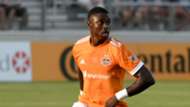 In a league where players often bounce around with different teams, it isn't too rare to find players facing off against former clubs. The reunions are in full effect in the conference finals though, with both series featuring some intriguing returns to old stomping grounds.
Will Bruin's return to Houston after six seasons with the Dynamo is garnering the most attention, but he is just one of four players facing former teammates. Houston Dynamo fullbacks Jalil Anibaba and Dylan Remick were both Seattle Sounders in recent years, and each played a key role in the Dynamo's path to the West finals.
If Anibaba starts in Tuesday's series opener as expected, he will have made just as many starts in the playoffs as he did during the regular season, giving Wilmer Cabrera a veteran presence at right back to help fill in for injured starter A.J. De La Garza, who was lost with a torn ACL.
"For me, this season I just tried to keep things in perspective and use the experience I've gained over the years to understand how valuable playing time is," Anibaba told Goal . "Any time my number's been called upon this year I've tried to do my part and be ready. It's not an easy task mentally, but when you have teammates around you that keep you in the right frame of mind it's definitely something that you can pull off."
The Crew-Toronto FC series will see Josh Williams go against the same TFC side he spent the previous two seasons with. Williams began his MLS career with the Crew, but then spent a season at New York City FC and two with TFC before returning to the Crew last winter. After initially spending the first half of the 2017 season as a reserve, Williams became a regular starter in central defense and played a key role in the Crew's strong second-half finish.
"I think (Williams) needed to go away and see other things, and learn other things and meet other people," Crew coach Gregg Berhalter told Goal . "I think it was very important for him to have those experiences. and I think that's matured him. He's come back as a leader, as a solid veteran in our group, and has been a very influential factor on our back line."
---
A CLOSER LOOK AT CREW-TFC
---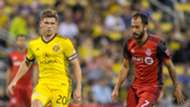 Toronto FC won the regular season series against the Crew, taking two of three matches, but all three matches were played early in the season, and plenty has changed since then.
"We're a different team now than we were in mid-May. We're a better team. We're a more experienced teams," Crew coach Gregg Berhalter said. "The last two months of the season we've been playing some very difficult games that have prepared us for this moment.
"They're very disciplined in how they play, and we expect them to be very compact in Columbus, and make it very difficult for us. They will be very focused on going back to Toronto in good shape, and they're going to do a lot to try and prevent us from hurting them."
The suspensions of Giovinco and Altidore will limit TFC's attack in Tuesday's first leg, but it should be noted those same two stars were absent when TFC posted a 5-0 thrashing of the Crew in the last meeting between the teams, back in May.
The Crew will look to get lead striker Ola Kamara some looks as he attempts to continue his torrid form of the past two months.
"Not a lot of people talk about him as one of the league's better forwards, but the few times we've played against him I've been impressed with him," TFC captain Drew Moor told Goal . "He's someone we're all going to have our hands full over these two legs.
"That said, I still think a lot of the Crew's success goes through Higuain. he's somebody that we've got to keep an eye on, and not give him too much space."
The series will feature plenty of juicy individual match-ups, including the battle between Michael Bradley and Higuain, Wil Trapp and Artur against Victor Vazquez, and Justin Morrow against Pedro Santos, but the best battle could be on the sidelines, where Berhalter and TFC coach Greg Vanney will look to win what should be an excellent tactical battle.
"With Berhalter and Vanney you're going to have two teams that are very smart, that have a method of how we want to play, how we want to line up, how we see the game going, but can also adapt at times if needed," Moor said. "Not just physically, but tactically as well. Whether it be formations, whether it be field position. Whatever it is, I feel these two coaches watch video any time they're at the training ground. It's unbelievable the amount of work I can tell these two coaches put into studying the game.
"It should be a lot of fun because these two teams I feel like will really play good football and try to play the right way," Moor said. "It should be a fun matchup for neutrals, and as a fan of this league I'm excited for it."
---
A CLOSER LOOK AT SOUNDERS-DYNAMO
---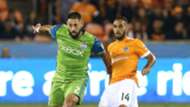 The Houston Dynamo have been one of the best teams in MLS at home in 2017, and they will be banking on that excellent home form to deliver them a victory in Tuesday's first leg of the Western Conference finals.
One of the big subplots heading into the first leg is the condition of the playing field at BBVA Compass Stadium, which has been in terrible condition during the playoffs. The Dynamo have adapted to the sloppy conditions, turning in strong defensive showings when playing free-flowing, attacking soccer has been difficult. That being said, Dynamo coach Wilmer Cabrera is quick to point out that his team is overcoming the home field conditions much more so than the Dynamo are benefiting from them.
"If there's someone that's going to be more affected by the field not being in good condition it's the home team," Cabrera told  Goal . "That's for sure because when you play away you want to defend, and the best way to help the defense is when the field is not in a great condition. The ball bounces and it's difficult to control the ball. The field during most of the season was perfect, but in the end it was (beat up) a lot and it was just for different kind of games.
"That's out of our hands, we can't do anything about that," Cabrera said. "If you can't control it, you have to adapt. Does it affect us more? Of course, because we want a very nice field to try and attack and play forward. I know the club has been trying to work with the league to try and make sure the pitch will be in the best shape possible."
The Dynamo should still be able to test Seattle's defense with their collection of speedsters, led by Alberth Elis and Romell Quioto. Houston's speed on the flanks has caused problems for opponents all season, but the Sounders are one of the few teams that may have the pace necessary to handle that.            
"I would put Nouhou in a race against any of their players, Joevin's got speed, Kelvin's got speed," Schmetzer told reporters last week. "I think the way the game manifests itself is just which players can make some plays. If you look at the Vancouver series. Again, a counterattacking team gave us a little preparation for this. But it still comes down to the guys have to make plays.
"If Elis can get the better of our left side, then okay fine, fair enough, but if our guys can shut him down then that's a big loss for them."
"They want a game where it's open, extremely open and free, whereas we want a game that's very condensed, very defensive minded where we keep everybody in front of us," Sounders midfielder Christian Roldan told reporters on Monday. "We can't lose the ball in careless spots but I think it's two completely different styles and I think it's going to make for an exciting game."
Potentially working in Seattle's favor is the return to action of Alonso and Morris, who have both been sidelined by injuries. The almost three-week break should help them both get closer to being able to contribute in the conference finals. That's help the Sounders will need to help ensure a triumph against a Dynamo side that has already shown in the playoffs that it can be dangerous.
"If we can stifle their counterattack I think we've got enough quality in possession and in the final third that we're going to generate chances and get goals," Sounders forward Will Bruin told Goal . "That said, their counterattack can hit you. In five seconds they can go from our box to their box. That's something we have to be aware of, and if we can keep that in check and under control then I think we have a pretty good shot."