MLS
No away goal, but Toronto FC confident after stifling Crew attack in stalemate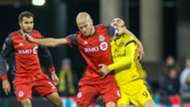 What do you do when you have to play the first match of a two-leg series on the road and without your two best attacking stars? If you're Toronto FC, you focus on defense, organization and discipline, keeping things tight so you can return to BMO Field, where you have been the best home team in the league.
If that was indeed Greg Vanney's plan, and his team carried it out perfectly, limiting the normally dangerous Columbus Crew attack in a 0-0 draw on a day with few quality chances for either team. Alex Bono's late save to deny Harrison Afful thwarted the Crew's best chance, and now Columbus must go to Canada in search of a result against a team that has been extremely tough at home in 2017.
"Zero-zero is not a perfect result, we'd like to get a road goal, but at the end of the day we have to go back to Toronto and win a game," TFC coach Greg Vanney said after Tuesday's Eastern Conference final first leg. "We will be home, in front of our fans and in our stadium, and we'll play to win the game."
The tactical chess match between Vanney and Crew manager Gregg Berhalter saw Vanney pull a bit of a surprise by deploying a 4-1-4-1 rather than the usual five-man defense we have grown accustomed to seeing from TFC, and the change left the Crew struggling to get ahold of the game in midfield. A tactical adjustment at halftime saw the Crew find more opportunities, but TFC still managed to stay organized defensively, keeping the Crew from finding many dangerous chances.
The Crew weren't able to deliver a home win for a raucous crowd at Mapfre Stadium, but for Berhalter, the result wasn't exactly a negative.
"There were a couple of acceptable results that we could live with, and this was one of them," Berhalter said. "Zero-zero was one of the results we would take."
With Sebastian Giovinco and Jozy Altidore in street clothes Tuesday night, it was up to others to step up for TFC — and Bono and Michael Bradley were at the front of the line. Bono made three saves, none bigger than his stop on Afful after a bad Drew Moor clearance teed up the Crew fullback with a shot from close range. As he had done in the Red Bulls series, Bono showed he could make the big late save yet again, helping to preserve the shutout.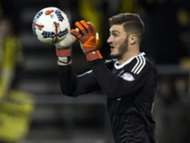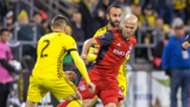 Bradley was outstanding in midfield for TFC, even as boos serenaded every one of his touches. It had to be a strange feeling for Bradley, who had played so many big matches with the U.S. national team in Columbus before, including his two-goal effort in a World Cup qualifying win against Mexico in 2009. He was cheered loudly on that day, but the lingering anger over missing out on the 2018 World Cup had Crew fans spewing venom at Bradley on Tuesday night.
It clearly had no effect on him, as he finished the night with the most completed passes (78) of any player, along with a whopping 17 recoveries.
"I thought he did a great job," Vanney said of Bradley. "I think our setup was good. I think it made sense for the day, given the guys we had, and I thought he did a good job of manipulating our guys defensively, and also just controlling the pace for us with the ball, which is what we wanted. We wanted to come in here and be able to have our fair share of possession over the course of the day."
The Crew needed some big performances but failed to garner any of note. Federico Higuain was kept quiet on the night, in large part because of Bradley's efforts, and Ola Kamara was rendered invisible. Without those two offering much, the Crew were left scrounging for chances in a way we hadn't seen before during these playoffs, though some better play in the final minutes left Berhalter encouraged about the team's chances heading into the second leg.
"The way I saw the game was we kept pushing. We didn't give up. We kept trying to create goal-scoring opportunities," Berhalter said. "In fact, the last 10 minutes we probably had our best chances of the match."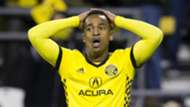 It could be argued that Brazilian midfielder Artur had the best performance for the Crew on Tuesday, but he will now miss the second leg after drawing a yellow card 
The Crew can take heart in having not surrendered an away goal, meaning any score draw in the second leg sends them to the MLS Cup final. Berhalter could point his team to the Red Bulls' second-leg win in Toronto in the conference semifinal for inspiration. Jesse Marsch's men pushed TFC to the brink in what wound up being a very feisty affair.
That series seemed to provide a blueprint for taking TFC out of its game, but the Crew are a very different team than the Red Bulls. It seems highly unlikely Columbus will try to turn the second leg into a dogfight. The more likely scenario will be the Crew throwing numbers at Toronto, because sitting back and defending just doesn't suit Columbus.
That much was made clear in the New York City FC series, when they looked thoroughly uncomfortable sitting on a big lead. They have the weapons to create chances against TFC, and as much as it could be a risk to go right at a team as dangerous as Toronto, it is the approach that gives the Crew their best chance of pulling off the upset.
For Toronto, Tuesday's result makes the second-leg task a clear one. A win at BMO Field means a return to the MLS Cup final, and a chance at redemption after last year's loss in the title game. As disappointed as TFC may have been at not snagging an away goal Tuesday, the visitors still left Mapfre Stadium feeling good about their performance, and their chances heading into next week's decisive match.
"All in all, a good night," Bradley said. "The mentality was excellent. I felt we handled things in a good way, and we get to go back to Toronto, in front of 30,000 people next week with the season on the line, knowing that a win gets us back in the final."