Minerva Punjab
Minerva Punjab: Sukhwinder Singh - It is strange that our coaching degrees have no value today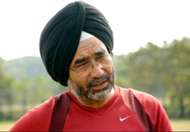 Sukhwinder Singh became a household name in Indian football when he guided JCT Phagwara to the maiden National Football League (NFL) title back in 1996/97 season. He has also won the SAAF Cup twice, once with the senior national team in 1998 and once again in 2009 with the India U-23 side.
He has now been appointed the Technical Director of I-League champions Minerva Punjab. But the accomplished coach rues the fact that he cannot coach a club currently as AFC has made it mandatory for coaches to undergo professional courses to take up a job at a top-flight club.
"We do not fulfil the AFC conditions to be a football coach as our coaching degrees have been made null and void. The same courses have been renamed and our degrees have become useless. I have been the national coach and as well as National Football League winner with JCT. But they feel we are not eligible to coach a team," said Singh to Goal.
The 69-year old tactician revealed that talks with Minerva began when he went to watch the last league game of the Warriors against Churchill Brothers back in March. He also affirmed that since Minerva hails from Punjab, he did not think twice before taking up the offer.
"Punjab needed a team which would represent it on the national stage. Now Minerva has been doing some wonderful work and I felt that it would be best to share my experience and knowledge with a team from my homeland so that they can progress further.
"Minerva have already clinched the championship. Now they must maintain their performance. Their coaching staff is highly qualified but there is no end to learning. I will pitch in with my two cents wherever I feel necessary to do so. If they again become champions, the credit will go to the players and not me. If they like my work, I am ready to work with the junior teams as well," shared Singh.
The former national team gaffer is excited about India's chances of winning silverware in the upcoming SAFF Cup but thinks that it will not be a cake-walk for the Indian team to qualify for the knock-out round in Asian Cup 2019.
"The national team is in a good rhythm. They look motivated to do something good. They have been playing phenomenal football for the past two-three years and they have improved in the rankings as well. The SAAF Cup will provide a good platform to prepare for the Asian Cup. I don't think they will have any problem in the SAAF Cup. It is good that they are playing the SAAF Cup as it will help them identify their weaknesses and work on them before the Asia Cup. 
"But their real test awaits in January 2019 when they face the best teams in Asia. I think it will be really difficult in the Asian Cup. Each of the teams have different playing styles and every team will pose a different kind of challenge. It is too early to say whether they will progress to the next round," signed off Singh.