Mexico
Mexico shows off newfound tactical flexibility during Europe trip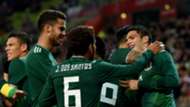 Mexico's 1-0 victory over Poland on Monday was a totally different game than Friday's 3-3 draw against Belgium.
El Tri boss Juan Carlos Osorio knew going in it would have to be. Without five of his regular outfield players and just three days since the match in Brussels, there would have to be an overhaul. Osorio ended up playing not only different players but a different style.
While Belgium's rapid attack and quick transitions required Mexico to hang with the Red Devils in an open game, Monday's contest was much more closed. After an early goal from Raul Jimenez, the team was able to protect the lead, playing fewer risky passes than they had three days earlier. It was an intelligent game requiring more patience and tact than Friday's goal-fest. Over the balance of the trip, Mexico showed it can play different styles and do so against top teams.
"I think we did great things during both games. We had the majority of the possession in both games," Jimenez told Univision after the match. "We're really calm after these matches, knowing we were able to close out the year like that. I think it's positive, and we're all happy with this result."
#TriTDN
¡Aquí el Gol de Jiménez y así se abre el marcador! pic.twitter.com/LNepRhoaya

— TDN (@tdn_twit) November 13, 2017
Even within the game, Mexico switched from playing a five-man back line to a back four and still was able to both stifle the hosts and put pressure on them going forward. The contest totally changed as Mexico made modifications to bring in depth players and Poland brought in a few of its typical starters. Still, Mexico controlled the contest, keeping the ball and venturing forward when the opportunities came.
"It's not about order, but rather about giving priority to circulating the ball and having long sequences of passes to prepare for the next attack and to have more control of the game and domination of the game. It's one thing to control the game, it's another thing to dominate it," Osorio said after the match. "When you play against Belgium, if you give them possession and don't attack, it's going to have a bitter end for you. Today is different. It's a team that also prioritizes defending well and playing in transitions. We took this in mind today, and I think we managed it really well."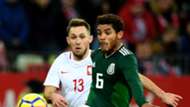 Previous iterations of Mexico haven't been able to pull off the same tactical flexibility. Miguel Herrera's alternative side at the 2015 Copa America desperately needed to do something other than play the typical 5-3-2 it had been playing, but he kept trying to shoehorn it in. Chepo de la Torre's teams became predictable during the end of his reign, with Honduras and Costa Rica among the teams able to outwit his defensive style. Players openly called for change after the 2013 Confederations Cup elimination. 
Even Osorio's Mexico hasn't able to deal with the different styles other teams put out during major tournaments. Just months ago, Mexico labored to an uninspiring draw against New Zealand in the Confederations Cup. Fans don't need reminding about the 2016 Copa America Centenario elimination against Chile.
With this excellent close to 2017, the Mexican federation is seeing the fruits of its uncharacteristically measured decision to retain Osorio. The coach has adapted some of his own tightly held ideas, playing a midfield partnership of Diego Reyes and Andres Guardado where he tried to play in a 4-3-3 against attacking teams at the Confederations Cup with Hector Herera stranded in the middle. He handed recalls to key players like Guardado, Hector Moreno and Miguel Layun for the second of two games where previously there would be major changes.
El Tri will learn what the route looks like at the World Cup when the draw takes place Dec. 1, but the next time the top group is back on the field together will be in March. The good feelings from this solid trip can carry over until then.
"We're happy, beyond the good results," Guardado said. "It's not a secret when you have good results you work better and the atmosphere is better when you have good results, but the way the team worked well is what will stick with me.  
"Facing two very different opponents, facing very different challenges and the team was able to adapt to both styles, play even with them and the team was able to get a draw against a great team the other day and now a win against a Poland team that always is tough to face at home."
In Russia, Mexico is going to come up against the same type of quick turnarounds, injuries and absences that it did during this trip. These games show that Mexico can go forward with confidence it can deal with those challenges and have a historic World Cup in 2018.