Barcelona
Messi a big miss but Barcelona can cope in Clasico clash with Real Madrid - Kluivert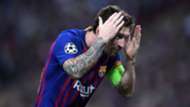 Barcelona have enough quality at their disposal to counter the loss of Lionel Messi against Real Madrid, says Patrick Kluivert.
The reigning Liga champions are set to play host to their Clasico rivals at Camp Nou on Sunday without their talismanic captain being available to Ernesto Valverde.
An untimely broken arm has Messi stuck on the sidelines, while eternal rival Cristiano Ronaldo will also be missing from a showpiece event after leaving Madrid for Juventus over the summer.
The absence of two iconic figures should help to level the playing field, but Kluivert concedes that Barca need somebody to step up and fill the boots of their skipper.
The former striker told La Liga Lowdown: "It gives Madrid a bit more chance. Of course Lionel Messi is the star player of the world and without him in the team Barcelona has a little bit more difficulty to win games.
"He is such a player that he can decide games by himself and play a game by himself. Now it's the time for the team to show that they can play without Messi.
"It will be difficult because he has such a weight on his shoulders in every game, and he proves it in every game that he is so important for the team. But with big games coming up, it is a big pressure for Barcelona without Messi in the team.
"They have to play differently. It's a big blow that he's not there because of his weight in the team.
"I don't think they will change a lot. Barcelona is a team who can play very good football even without Messi. It will be strange but they have a lot of quality to solve this problem."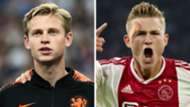 While addressing the present at Camp Nou, Kluivert has also been looking to the future.
The ex-Ajax and Barcelona striker has seen fellow countrymen such as Frenkie de Jong and Matthijs de Ligt heavily linked with moves to Catalunya of late, and he feels two promising Dutch talents are ready to follow in his footsteps
He said: "They are two young players who currently play at Ajax, two bright young players who play very good with Ajax.
"It is of course different pressure. Everybody needs to know that if you are playing for Barcelona, the pressure is always very high.
"I think they are two very good players who could fit very well into the team at Barcelona.
"The style of play and the qualities they have are connected very strongly to the type of player Barcelona has and will have in the future. You have to know the identity of the way of playing."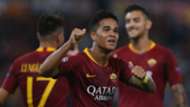 Kluivert has also conceded that his son Justin could one day make his way to Camp Nou, with the 19-year-old winger currently furthering his development in Serie A with Roma.
"Of course he would love to play for Barcelona one day," said Kluivert.
"His goal is to play for Barcelona. Roma is very good for him at the moment. He needs to play a lot more matches and I hope at the end of day that he can sign for Barcelona."