Memphis Depay
Memphis eyes key role in 'beautiful' Netherlands future despite World Cup failure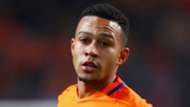 Memphis Depay hopes to become a key player for Netherlands in the wake of Arjen Robben's international retirement and remains optimistic about the country's future.
The Dutch missed out on a World Cup qualifying playoff place as they finished behind second-placed Sweden on goal difference in their group, despite beating Janne Andersson's side 2-0 in their final game.
Robben scored both goals in what proved to be his final game with Oranje, leaving the country looking for another world-class player to become the star of the team.
Lyon winger Memphis was hyped as the most likely to take on that responsibility, but he continues to face criticism for a perceived attitude problem, which confuses the 23-year-old.
"Sometimes I wonder if people realise how beautiful and honourable I find it to play for my country," he told Voetbal International. 
"I want to be important in the new phase with Oranje. That's my goal. I really hope that we can all create a more positive atmosphere around the Dutch team.
"We're currently going through a difficult period, we're no longer the Dutch team of a couple of years ago. We now have many young players and need support.
"Looking at the future of Orange, I have good hope. We will have to be strong as a team, preferably with the whole country behind us. So we can go back to something beautiful."
Memphis' fascination with music and fashion has prompted many fans and media to question his commitment to football. He famously made headlines in his homeland for turning up to national team duty wearing a hat and scarf.
But the former PSV and Manchester United player says footballers are not one-dimensional figures and believes his other interests help him in his career.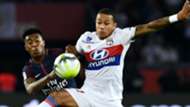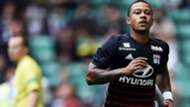 "You know, there is often some bad talk about me," he said. "Usually, it's about my behaviour. But what exactly is wrong with what I do? I'm a 23-year-old man, someone who is also developing as a person. We are all developing that way, right?
"Apparently, the things I do outside of the football are not taken as positives. I don't care, but sometimes it amazes me. I'm focused on football and my career. No one really has to doubt that. Outside, I do other things that make me happy. I'm not a football player 24 hours a day. There is an idea of ​​how professional football players should live.
"If I lock myself at home after training, I become unhappy. That will eventually have a negative effect on my football. I've noticed it in practice.
"I feel blessed with my life. Happy with who I am. I hope you are, too, I hope everyone is. I'm grateful for what I've achieved so far and what's going on in my life."