Marquinhos
Marquinhos talks life at PSG & the club's incredible project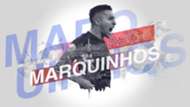 Dear fans, dear football enthusiasts,
I'm pleased to announce that I am a new Goal columnist.
Each month, I will discuss a topic, such as PSG, my life as a player, the national team or my passions away from the field. Firstly, I'd like to talk about my early career and how I have developed at this ambitious club.
I consider myself proud and lucky to be the third captain of PSG, which is a role I take very seriously. I speak good French, I know the club and its ambitions, and also the people who work here. I've a good relationship with every one. It's very important in the changing room. It's important to have players who can bring with them maturity and calmness to the team, but also a sense joy at the same time.
Being a captain is a difficult task. When things aren't going well, you have to know if it's time to speak or shout at your team-mates. It's tricky because you have to say negative things while trying not to hurt them. You need to be smart in your approach, but we're not psychologists and we make mistakes. A footballer needs to become mature very fast. In most jobs, the leader gets time to learn but I'm 23 and already third captain.
I grew up with the club and I'm proud to have been part of this project from the very beginning. I've already had two coaches and there have been many players who have moved on, but now others have arrived. When you remain at a club, when you see those players coming and going, things changing and improving, you realise that you're still here and you're proud of it. Not only because I've been here since the start, but because I know my work and my efforts are recognised.
I arrived in Paris in 2013 after a good season with Roma. When I heard about PSG's interest at that time, I was pleased because their project was very interesting – it was a young, long-term and ambitious plan. I was 19 years old, I had just arrived in Europe and I wanted to develop at a great club with big ambitions.
At that age, we change a lot. As footballers, we have to mature very quickly. In our first years as professionals, we have to grow up as quickly as possible. That's what I tried to do when I first arrived in Paris. There were already some very good players in the squad and I knew I'd have to be patient for my chance. I wanted to learn from all my team-mates; Alex was above me in the hierarchy and I knew it.
The development of a player is determined by what he can learn from his team-mates. That's how I think; I try to learn as much as I can from those I admire. Each player taught me something in a different way.
Of course, it is normal to have more in common with those players from the same country as you; you speak the same language, eat the same food and it's easier for you. Since the beginning, I've developed a great friendship with Lucas, who I consider a brother.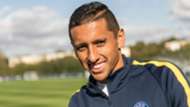 Thiago Silva was my idol since I was young. I came to Paris because I wanted to play with him, to share experiences with him.There are other players who've become friends to me like Blaise Matuidi and Serge Aurier, Adrien Rabiot too. We've been through the same things.
While waiting to show my qualities on the pitch, I had to be quiet and patient. If I was picked to play in another position, often right-back, it meant that he trusted me. He always spoke to me, so I took it well. It was a time to learn. I took advantage of these chances to show myself to the fans, the coach and the whole club. The best answer is on the pitch.
Today I face competition from Thiago and Presnel Kimpembe. The coach says that we can all start every game, which is because we are at the same high level both individually and collectively. Fair competition like this is good for the team. If you want high quality on the field, you need to get the best from all your players. I think that Unai Emery is handling this very well.
Personally, I have to focus on my own work and make every effort on and off the pitch.
The increasing power of the club is a very good thing, it's confirmation that the project is moving in the right direction. There are things to improve, of course, but the club has really entered a new dimension, with regards to the new players, the results we have achieved, what we are doing on the field and the positive start to our Champions League campaign.
For me, it's wonderful to be part of this huge project. I've known good times here but also difficult ones and I think that's part of my path. I've grown up with the club, so for me especially, those great moments are particularly magical.
Over time, my love for PSG has only increased.
Marquinhos