Manchester United
Man Utd should be setting their sights higher than fourth, says Young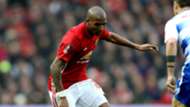 Ashley Young has called on Manchester United to set their sights higher than merely securing a top-four finish this season.
The Red Devils have spent much of the 2016-17 campaign playing catch-up in the battle for Champions League qualification.
They have kept themselves in contention, with a 2-0 victory over Chelsea leaving them four points off the pace with a game in hand, but Young believes there is still plenty for the club to aim at.
Herrera: Pogba among world's best
He told reporters, with United also still in contention for Europa League success: "There have been high standards here since I signed for the club and we want to be pushing on.
"A lot has been said about how we want to finish fourth but I am that kind of person who wants to achieve more than that. I want to finish higher than that.
"Hopefully we have a semi final coming up. If we can play like we did against Chelsea then I am sure we can get through against Anderlecht and into the semi finals. We want to aim as high as possible."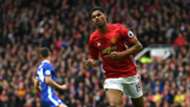 Young looked to be on borrowed time at Old Trafford at one stage this season, but he captained the side in a crucial win against Chelsea.
While he displayed commendable leadership qualities in that Premier League encounter, it was the performance of others which captured the headlines.
Ander Herrera made one goal and netted the other, while also marking Blues danger man Eden Hazard out of the game.
Darmian: Rashford can join the elite
Marcus Rashford also impressed and Young believes the youngster, who opened the scoring, is destined for big things.
He added: "I said it all along that when he was coming through the youth team and reserves you could see there was something special about him. He plays the game with hunger It comes natural to him.
"When he does things quick I don't think there are many defenders who can live with him. When he can get in behind he is a threat. He has a massive future in front of him not only for Manchester United but for England as well."