UEFA Champions League
Man Utd scalp sought by Navas as Champions League gift to City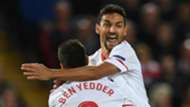 As a former Manchester City player, Jesus Navas is looking forward to rekindling old rivalries with Manchester United in the Champions League.
The Spanish winger is back in his homeland with Sevilla, having returned to his roots for a second spell last summer.
Navas had previously spent four years at the Etihad Stadium, during which he regularly crossed paths with arch-rivals from Old Trafford.
The 32-year-old will be seeking a prized scalp once more when Sevilla face United in at the last-16 stage of the 2017-18 Champions League, and the World Cup winner is determined to give both current and former employers something to shout about.
Navas told The Mirror: "For us, it's all about getting through to the next round.
"But I know it would be nice for some of the friends I've got back in Manchester if we did manage to pull it off and knock out United.
"If people underestimate us, they should look at what we're doing at the moment, our ­performances, the fact we've got to a final already and we're still in all of the competitions.
"We're a great side and we can achieve things.
"United were always our great rivals when I was at City, and we played some really important games against them.
"But now this is really important game for Sevilla, for the club, for our fans, and it would be great for us to make it to the quarter-finals.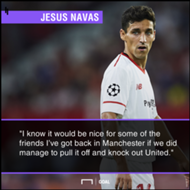 "We know it's going to be a hard game, but we're doing well at the moment and we'll do everything in our power to go through against United.
"But we know we'll have to be at our maximum level and concentrated throughout both games, because at any moment, a top team like United can finish the tie.
"United have also got some really important games coming up, starting with us, but hopefully we're going to be able to stand in their way."
Jose Mourinho's side head to Ramon Sanchez Pizjuan on Wednesday, before returning to domestic action with a run of Premier League games which will see them face Chelsea, Crystal Palace and Liverpool.