Transfers
Man Utd & Liverpool target De Vrij ready to leave his 'comfort zone'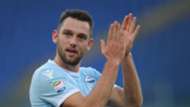 Stefan de Vrij is ready to step out of his "comfort zone" at Lazio after offering Manchester United and Liverpool hope of securing his signature.
The Dutch defender has been unable to agree a new contract in Italy and as a result will drop into the free agent pool this summer.
A scramble for his services is expected, with the 26-year-old Netherlands international a proven performer at the highest level.
Premier League clubs have been linked with a move for some time, and De Vrij is ready to take on a new challenge.
He posted on his personal Facebook account: "It has been a very difficult period full of speculations on my future to come to this point that nobody desired. Unfortunately we were not able to find a satisfying agreement for both parties due to various reasons.
"I understand the disappointment of the Lazio fans very good and it hurts me leaving in this way. Even though I am very happy and I feel at home here, sometimes we need to get out of our comfort zone to achieve our desired goals.
"I will be forever grateful to Lazio and to the fans for always being there for me, for the trust and opportunities given. I have always tried to demonstrate that by giving the best of me and I will keep doing that until the end.
"Thank you, Stefan."
De Vrij has been with Lazio since the summer of 2014.
He has made more than 250 appearances for the club over the course of four years, with a personal best return of four goals netted in the current campaign.
Those qualities will be on show outside of Rome next season, though, with Lazio having already announced that a prized asset will be heading for the exits.
Sporting director Igli Tare told Mediaset Premium: "Lazio have withdrawn the proposal we made for a new contract to De Vrij.
"We are withdrawing for reasons that we will explain later on. It was a choice made after many months of negotiations, but there is also a limit to how things went.
"He has been an exemplary professional and we thank him for that. He gave a lot to the club, just as we gave a great deal to him, but our paths will divide in June.
"It's not an issue of him agreeing terms with other clubs, but of being fair in negotiations. We did things the right way, but things changed at the last moment.
"We no longer wish to continue along this path."