Manchester City
Man City's Sterling happy to be in the company of Barcelona star Neymar, but seeks improvement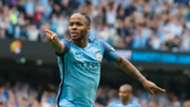 Raheem Sterling is happy to see his contribution at Manchester City challenging that of Neymar at Barcelona, but admits he wants to offer even more.
The England international has added nine goals and 14 assists to the City cause this season.
Over at Camp Nou, Brazilian superstar Neymar has plundered 14 goals in all competitions and laid on 18 efforts for grateful team-mates.
Sterling intends to be world's best
Sterling is pleased to be hot on the heels of the Barca forward in terms of creativity and acknowledges that it is now up to him to ensure that his goal return improves year on year.
He told Sky Sports on his 2016-17 campaign to date: "It's felt alright, it's felt good. I don't want to sound massive but I've got a lot more to come.
"Seeing some assist stats - just a few behind Neymar - that's great to see but I want to be doing it in games like Monaco, that we lost, those are the games that make you as a player."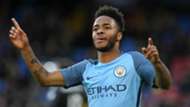 Next up for Sterling and City is a trip to Emirates Stadium to take on Arsenal.
The 22-year-old scored the winning goal against the Gunners at the Etihad back in December and he is looking forward to locking horns with a side that he followed closely growing up.
He added:"Sunday morning, in London, in my home town, I'm going to be looking forward to it.
Guardiola: English talents are top
"When I was younger and we had Arsenal at the weekend, oh my gosh, it was like I was going to see my favourite person in the world.
"I used to admire the amazing players they had at my age group, it was always a great test for me and it will be another great test at the weekend."
Sterling has gone six games for club and country without a goal, so a crunch clash with fellow Premier League top-four hopefuls would be a good time for him to get back in the groove.