Transfers
Mabhuti Khenyeza returns to AmaZulu as Cavin Johnson's second assistant
South Africa Chief Editor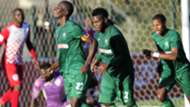 AmaZulu have announced the return of Mabhuti Khenyeza just a few weeks after he left the club to join Maritzburg United. 
Khenyeza, who left as a player, returns to Usuthu as Cavin Johnson's second assistant. 
The news was confirmed by Usuthu on their social media platforms on Tuesday morning. 
BREAKING NEWS

The Lion is back!

AmaZulu can confirm that former striker, Mabhuti Khenyeza has joined the club as a second assistant coach to Cavin Johnson. #Usuthu_Unite pic.twitter.com/GiVToeaWPF

— AmaZulu FC (@AmaZuluFootball) February 5, 2019
Speaking to the club following his return, Khenyeza said he was happy to be back at the club and he hopes to grow as a coach under the wings of Johnson. 
"I am happy to be back. I must thank the club's management for trusting me. I know that I will grow under coach Cavin and Alan (Clark). I enjoyed working with them as a player, now I am looking forward to learning from them as a coach," said Khenyeza. 
Khenyeza retired from professional football in December 2018 after being lured by Muhsin Ertugral, who appointed him as his assistant at the Team of Choice. 
Maritzburg United wanted Khenyeza to cut his retirement short and return to the field of play as a player. 
However, the 36-year-old wasn't willing and also the complications around the termination of his contract with AmaZulu made it almost impossible for the Pietermaritzburg-based side to convince him to play football again.