United States
Lletget and Nagbe the bright spots as U.S. begins 2017 with draw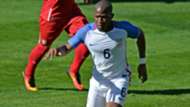 SAN DIEGO — It wasn't the start Bruce Arena was hoping for in his second stint as U.S. national team coach, but Sunday's drab 0-0 draw against Serbia isn't likely to make him lose much sleep.
"I'll be honest with you, if we won 5-0 today or lost 5-0, I'm not sure it would change our world for March," Arena said after the match. "These games are important, especially for our domestic players, but the games that are going to count are in March."
Altidore hits 100 caps in stalemate
Arena went into the first match of 2017 hoping to see some good individual performances, and hoping to have some defenders step up to provide some more tangible options heading into March's World Cup qualifiers. His defense put in a steady effort, avoiding mistakes and limiting Serbia's chances, while the U.S. midfield created some chances and won the possession battle.
"Overall I thought our midfield played well, our back line did a good job, and Nick (Rimando) was solid in goal," Arena said. "There were a lot of encouraging things out there that I was pleased about."
Darlington Nagbe was the most active attacking player for the Americans, thriving in a left wing role as he proved to be a handful for the Serbians for much of the afternoon. Freed from his stint in Jurgen Klinsmann's doghouse, Nagbe looked comfortable and confident on the ball. While he wasn't at his sharpest, seeing some chances go wide and some decisions needing a better outcome, the Portland Timbers midfielder put a good foot forward in his quest for a larger national team role.
Nagbe's good showing, and good camp, come a year after he failed to make his mark in the 2016 January camp under Klinsmann. This time around, under Arena, Nagbe is thriving, and has positioned himself as a strong candidate for a starting role for the March qualifiers.
"Last year I had my son so I came in a little bit late, but this year I've been here from the beginning, and I'm used to the guys and am comfortable with the guys, and Bruce has been great," Nagbe said. "Overall, it felt good on the left side and hopefully I can keep it going."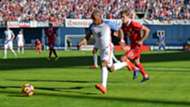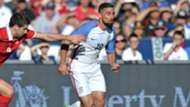 After the match, Serbia coach Slavoljub Muslin mentioned Nagbe first when asked which American players impressed him Sunday, while Arena and Jozy Altidore had praise for his performance.
"It's no secret. I think we all know how talented he is," Altidore said. "It's all about just getting better, and I think he has everything about him. I thought he showed that tonight. A bit unlucky sometimes with the final ball, or final finish, but I thought he was bright. I thought he was really good."
Sebastian Lletget made the most of his national team debut, coming on at halftime and making an instant impact, showing his dynamic qualities in central midfield. His best play of his 45-minute cameo may have been his dangerous cross into the penalty area that needed a better header from Sacha Kljestan.
Overall, though, the LA Galaxy midfielder looked comfortable playing alongside Michael Bradley and Kljestan, which — given Jermaine Jones' suspension — might just be where he is when the U.S. faces Honduras in World Cup qualifying in March, a match that will be played in San Jose, California, not too far from Lletget's hometown of San Francisco.
"That's absolutely a goal," Lletget said of potentially starting against Honduras. "Even back when I found out that I first got called up, and saw that would be one of the first games, I was like, 'I need to do well in these games so I can be a part of that one.'"
Lletget came on at halftime for Jones and made an instant impact, looking very comfortable in central midfield.
"He looked good. I thought he came on and was bright," Altidore said of Lletget. "He likes to get on the ball, he's good going forward. I thought he was a really good two-way player and I thought he didn't look out of his depth at all. Hopefully he continues to do well. He's a guy obviously that we all hope can continue to improve."
Rimando also had to boost his own chances of making a run at a starting role in March with his shutout effort Sunday. With Tim Howard still recovering from surgery and Brad Guzan not getting starts at Middlesbrough, Rimando could position himself as a starting option in March given his experience and good track record with the national team.
The match saw the U.S. hold the edge in possession and chances, but Serbia's defense held firm in the final third, keeping the Americans off the scoreboard on a day when the U.S. had a handful of half-chances but no truly dangerous looks at goal.
"This time of year the attacking players are a little bit behind," Arena said of his team's lackluster offensive showing. "They're just getting their fitness back, and their touch and all that. They trail, a little bit, the other players and you could see that today."
The U.S. will return to action Friday against Jamaica in Chattanooga, Tennessee. The Americans will be without Jones and Kljestan. Jones, who is suspended for the qualifier against Honduras, is joining the LA Galaxy, while Kljestan is returning to New Jersey ahead of the birth of his next child.