Lipuli
Lipuli keen to challenge for title next season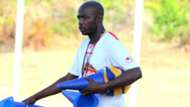 Lipuli FC intend to finish the Ligi Kuu in a good position this season in order to build enough confidence for next season.
Speaking to Goal, Lipuli's chairman Ramadhan Mahano said that this is the first season for them in the top flight so it is not easy for them to challenge for the title but he suggested that if they finish in a good position it will be easy for them to challenge for something next season.
"We have to build our confidence before challenging the top prize, to finish in good position this season it will help us a lot," said Mahano.
Lipuli sit seventh on the table with 27 points after 22 matches. They won two games in their last five, drawing twice and defeated once.
Ahead of their two away game with Mbao and Mwadui, Mahano said that they will prepare themselves in order to get good results.