Liga MX
Liga MX playoffs set with Pumas-Tigres most intriguing matchup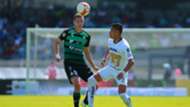 The Liga MX playoffs are set after the final round of the regular season ultimately led to few changes in the running order.
Queretaro beat Necaxa on Saturday to leapfrog Morelia and snag the eight seed. Otherwise, most teams stayed in the places where they entered the weekend. That includes Cruz Azul, which heads into the Liguilla as the Superlider and will have home-field advantage throughout the postseason.
There could have been a shift in the top half with Santos Laguna leading Pumas on Sunday afternoon and set to leapfrog to the three seed. However, an own goal from Doria in the second half turned the tide and saw Santos clinch the fourth seed.
A Pumas vs. Tigres matchup looks to be the most intriguing of the quarterfinals. The first leg between the two teams will be critical. While Pumas have to go on the road to take on Tigres at the Volcan, where Tuca Ferretti's side has lost only twice this tournament, Pumas have the best road record in the league with six wins, a draw and two defeats.
Santos against Monterrey also should produce quality contests. The two northern clubs each harbor title ambitions despite changing managers in the summer and losing a number of key players. Santos took the teams' meeting in the regular season, 1-0.
America and Toluca pits a high-flying Aguilas side against a Red Devils team coming off a disappointing finish to the year. Despite Lobos BUAP going down to 10 men with 20 minutes left, Toluca fell to a second consecutive defeat and must regroup before meeting America.
The matchups are:
(1) Cruz Azul vs. (8) Queretaro
(2) América vs. (7) Toluca
(3) Pumas vs. (6) Tigres
(4) Santos Laguna vs. (5) Monterrey

The team with the worse regular-season finish will host the first leg of the series with two taking place Wednesday and two on Thursday. The return legs will be hosted by the team with the better seed, with the Wednesday first legs being decided Saturday and the Thursday games getting their second games Sunday. Rather than a fixed bracket, the best-seeded team that advances will meet the worst-seeded team remaining.
The Santos-Monterrey series will be Wednesday and Saturday, as will Cruz Azul-Queretaro with the other two matches taking place Thursday and Sunday.