Manchester United
Life after Zlatan? Rashford the latest proof that Man Utd are already adjusting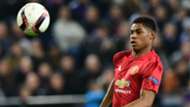 ---
COMMENT
---
There was widespread panic among Manchester United's supporters across social media when Jose Mourinho's side to face Chelsea on Sunday did not include Zlatan Ibrahimovic. For many the absence of the 28-goal Swede was reason enough to doubt their team's chances of beating the Premier League leaders, while others had Marcus Rashford's poor goals record this term down as the main point of contention.
No Hazard, no Chelsea: Mou does a job on Chelsea
But Rashford would leave to a standing ovation as he was replaced by Ibrahimovic in the 83rd minute. What had ensued was one of the most mature, probing centre-forward displays of United's season. On an afternoon when the young England striker's performance was put under the spotlight like never before due to Ibra's absence, he delivered in spades.
Not only did the 19-year-old open the scoring in United's 2-0 victory at Old Trafford, but he also delivered a stirring display which gave the Chelsea defence not a moment's rest. With Jesse Lingard sprightly in support, United's front two were key protagonists in the general discombobulation of a normally sturdy back line.
Rashford was not just causing problems with his pace, as when racing onto Ander Herrera's through-ball to poke his seventh-minute goal past Asmir Begovic, but also with his all-round play. He was working the channels well, holding up the play superbly, and putting in tackles to force Chelsea to start play from deep, dead-ball situations rather than high, fast-break positions.
It all helped to raise the intensity for the visitors, and it was notable that Mourinho voiced his pleasure at the speed and ferocity of United's play in his post-match press conference.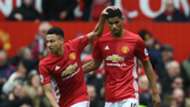 "We gave them double problems, when they had the ball because we controlled very well and we gave them problems when we recovered the ball because we were really sharp and fast and aggressive in our transitions. So I'm very happy," said the United boss.
And while he scuppered talk of Rashford grabbing a rare opportunity, he was also keen to talk up the increasing maturity of the England international.
"He plays every game. I think if he didn't play it's a maximum couple of matches," he insisted. "He's always on the pitch, on the right, on the left, in the centre, with one striker, with two strikers. I think for his education, for his tactical education, for his tactical culture, this season is a phenomenal season for him with an amazing range of different experiences.
"Is he scoring enough goals? No, I think he's missing a little bit and even today the first opportunity he had he didn't score. But 'The Kid' played very well."
In a season in which Ibrahimovic's goals have dominated the landscape, it was noticeable that this was a second straight fixture in which United did the hard work away from the aura that surrounds the Swede. While he did start in the 1-1 draw at Anderlecht on Thursday, it was Henrikh Mkhitaryan who delivered again on the continent with his fourth away goal in four Europa League fixtures. Then on Sunday came Rashford's best performance of the campaign when spearheading the attack to give Zlatan a well-earned rest.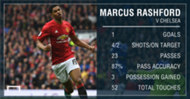 Given the dependency on the big number nine at times it has become a sub-plot of United's season that the post-Zlatan era, whenever that may begin, will see the club go through a period of some adjustment. And there certainly have been games which the striker has missed this term in which United have struggled.
Mou: 'The Kid' played fantastic
Yet here was a prime example that they can more than cope in his absence if the conditions are put in place for them to succeed. Here was evidence that Mourinho can set up a side to be full of energy in the opposition half and be constantly asking questions of the opposition both with and without the ball. And, moreover, here was proof that Rashford might well have what it takes to lead Mourinho's Manchester United going forward.
This was the first time all season that Rashford has been given the opportunity as the main man in the front line by choice rather than necessity. The only games Ibrahimovic had failed to start in the league prior to Chelsea's visit were those for which he was serving a domestic ban.
On Sunday, Rashford was chosen because United wanted to really unsettle their opponents and the rewards were huge. He was backed by his manager to add real purpose and verve into their play in Chelsea's half. Mourinho might have explained that Zlatan was tired after Thursday's exertions, but in truth he would have sent him out to start anyway if he really thought Rashford's game wasn't better suited to the plan he had for countering the league leaders.
So perhaps the post-Zlatan world will not be so dark as some believed. Sure, there will be games next season when United could really do with the big guy's presence, and so talk of backing out of discussions regarding his one-year extension would be premature in the least. But maybe, just maybe, we have seen a couple of examples in the last two matches that United are better prepared for life after Zlatan than some have given them credit for.
Mkhitaryan was the master on Thursday, and Rashford reigned on Sunday. Zlatan is still the king in Manchester, but his abdication might not be nearly as unsettling as feared.