World Cup
'Lewandowski is not irreplaceable' - Poland legend Szarmach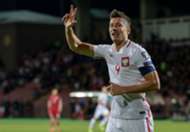 Robert Lewandowski is not irreplaceable for Poland, according to their former striker Andrzej Szarmach.
The Bayern Munich forward, who has scored 55 times for Poland from his 95 caps, goes into this World Cup as Poland's star player, as they face Senegal, Colombia and Japan in Group H.
The 29-year-old has also bagged 151 goals from his 195 appearances in all competitions for the German champions since signing from rivals Borussia Dortmund in 2014.
This is Poland's first World Cup appearance since 2006, and Szarmach believes that, despite Lewandowski's quality, the national team could find an even better striker in the future.
"It's true that he is a very great player," Szarmach told Goal. "But, there is no irreplaceable player.
"It's not impossible that the one who takes his place does as well, if not better. We cannot know it."
Poland have struggled in recent times in the World Cup compared to their successes in the 1970s and 1980s when Szarmach was part of the teams that finished third in both the 1974 and 1982 World Cups.
The last time they made it past the World Cup group stage was in 1986, although they did reach the quarter-finals of the European Championship for the first time in their history in 2016.
In qualifying for this summer's tournament, Poland impressed by picking up 25 points from a possible 30 that saw them finish top of their group ahead of Denmark.
Szarmach has called on his nation to go far in the World Cup and, in his eyes, they have every chance given how wide open this year's competition is.
He added: "Why not? In football, anything is possible. There is not really a favourite. Poland can very well go to the final and why not win it."
Szarmach played a key role in Poland finishing third at the 1974 World Cup, scoring five goals and finishing joint second in the race for the Golden Boot.
He looks back on that tournament with the fondest memories out of the three World Cups he featured in and, despite feeling a hint of disappointment that they did not go onto lift the trophy after losing to eventual winners and hosts West Germany in their final second-round group game, he is happy with their achievement.
"It's true we were not far away," said Szarmach. "We could have won it, the first time in 1974. We played the game [against West Germany] with difficult conditions.
"There was a lot of water, the pitch was soaked. We could have done better that's true, but nevertheless we were happy."