Transfers
Leonardo Castro is a Kaizer Chiefs player, confirms agent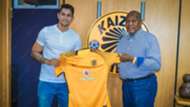 Leonardo Castro may have recently signed for Kaizer Chiefs from Mamelodi Sundowns, but there has been much uncertainty and confusion surrounding his transfer.
Reports in France had suggested that the 28-year-old was at the centre of interest from Ligue 1 club Amiens in spite of his recent transfer, and with Castro currently out of the country as he awaits his work permit, many questioned whether or not the Colombian was a Chiefs player.
However, the player's agent has finally offered some clarity on the matter, and has poured cold water over any talk that Castro could be snapped up from under Chiefs' noses.
According to Joao Betancourt, who deals with Castro's affairs, the report in the French publication L'Equipe was mere speculation regarding who should replace their star forward Lacina Traore.
"The Amiens report is about who should replace (Lacina) Traoré now that he is leaving," Castro's agent told Independent Media.
Furthermore, Betancourt explained that Castro is indeed an Amakhosi player and is scheduled to arrive back in South Africa on January 6 (Saturday).
"And Castro is waiting for his new work permit under Kaizer Chiefs. So, he will arrive on January 6," he confirmed.