Arsenal
Lacazette wants time to work with Alexis and Ozil, but will he get it?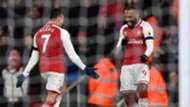 Alexandre Lacazette hopes he will get time to work with Alexis Sanchez and Mesut Ozil at Arsenal despite the ongoing transfer rumours.
The French striker completed a big-money move to Emirate Stadium over the summer, with a £46 million deal making him the club's record signing.
He was drafted in to complement the creative talents of Sanchez and Ozil, but they are now being heavily linked with moves elsewhere – possibly in January when the window reopens.
Lacazette hopes both can be retained for the foreseeable future, as their respective contracts run down, with their plenty of potential still to be unlocked in their budding relationship in the final third.
"For Mesut, it's about passes, his vision of the game and passes," the 26-year-old forward told Arsenal Player.
"And for Alexis, perseverance. He always wants to go further, be stronger and rise higher. As well as being very fast, he always wants go even further.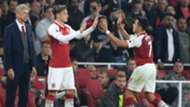 "I already get on very well with them in every day life. On the pitch, we've gotten to a point where we understand one another better, better than at the beginning. We learn more every day. But we already know how the other likes to play so it's easier for us. 
"The coach puts all three of us together or puts us into pairs. Then, I'm the one who has to get to know them more, rather than them as they've been playing together for quite a few years. 
"It takes time to adapt. It will take days, weeks, maybe months, I don't know. But, it's not a problem, but I know that in time we'll get on even better."
With there plenty of top talent around him, Lacazette has made a positive start to life in England.
He already has eight goals to his name, with that tally reached in 16 appearances.
There is the promise of plenty more to come, with World Cup places up for grabs in a competitive France squad, but it remains to be seen how long Lacazette will continue to benefit from the support of Sanchez and Ozil.