Transfers
Kolarov plotting return to Serie A as he enters final year of Man City contract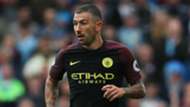 Aleksandar Kolarov is hoping to return to Lazio when the time comes for him to leave Manchester City.
The Serbia international has spent the last seven years in England, having completed a £16 million transfer in 2010.
He has made close to 250 appearances for City, helping them to two Premier League titles, an FA Cup triumph and League Cup success.
Agent: Aguero will stay at City
Kolarov is, however, entering the final 12 months of his contract at the Etihad Stadium and admits that he would like to head back to Italy if the opportunity arises.
The 31-year-old defender told Il Messaggero: "I'd like to return one day because Rome remains in my heart. I am no longer young but I can still have a say.
"I've won everything in Manchester but Italy is something else.
"Even if stadiums and the football is still behind, I've always missed it.
"Forza Lazio and greetings to every tifoso."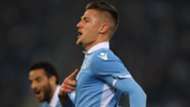 Kolarov has also had his say on potential goings on at Lazio in 2017-18.
He expects a deal to be completed for Atalanta captain Alejandro Gomez, amid intense transfer talk, while also talking up the qualities of countryman Sergej Milinkovic-Savic – with the 22-year-old midfielder making quite a name for himself in Italy.
Pogba happy with Griezmann at City
Kolarov added: "I'm sure Lazio will have a strong squad for Europa League and in my opinion, they'll get Gomez.
"Regarding Milinkovic-Savic, he's an amazing player, he's Lazio's and the national team's future".
Milinkovic-Savic netted seven times in 38 appearances for Lazio last season, while Gomez has emerged as a top target after scoring 16 times for Atalanta and providing 10 assists.