Liverpool v Manchester City
Klopp: It's not witchcraft, Guardiola just always had better teams than me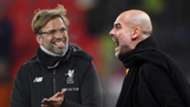 Jurgen Klopp says the success enjoyed by Manchester City rival Pep Guardiola "is not witchcraft", as he prepares Liverpool for a meeting with the Catalan in the Champions League quarter-finals.
The Reds will welcome the Premier League leaders to Anfield on Wednesday for the first leg of an eagerly-anticipated continental clash.
Klopp has locked horns with Guardiola sides on a regular basis down the years, and boasts a decent record having emerged victorious in six of their 12 meetings to date.
He is, however, prepared to admit that the former Barcelona and Bayern Munich has often topped him when it comes to trophy collecting and he is fortunate to have worked with some of the best teams on the planet.
Klopp told UEFA's official website on his managerial rivalry with Guardiola: "His teams are always excellently positioned. He always has great teams which make excellent decisions. At Barcelona it was Xavi, [Andres] Iniesta, [Sergio] Busquets, Lionel Messi and so on, just to mention the creative players from his time there.
"At Bayern he had fantastic players who made a lot of great decisions. Now, with [Ilkay] Gundogan, [David] Silva, [Sergio] Aguero, [Leroy] Sane, [Raheem] Sterling and Gabriel Jesus, they're extraordinary.
"Positioning is important but this is not witchcraft. It is not unusual just because the wing-backs come inside but when the players are in position they move every millisecond in order to be available. And when they are, that's when the individual quality of the player becomes important.
"So they're already well positioned on the pitch, they know what's going on around them, they are very well orientated and they can pass the ball into the next area. That's what makes them extraordinary. Whenever they can't pass they use their pace in order to progress further up and then the space on the wing is free."
Klopp added on the reasons for Guardiola having landed more silverware than his Borussia Dortmund and Liverpool sides: "There's no big difference, actually. It's just that Pep has always had better teams than me.
"You can see that now with Manchester City – they have a lot more points [in the Premier League] than we do. However, that difference has never been as small as it is now. When we coached at Bayern and Dortmund respectively, that difference was really big.
"And when he was coaching Barcelona I was at Mainz, so that was a completely different situation.
"They've got a lot more ball possession than I ever had in my coaching career. They were always world-class teams and we always had to improve a little bit. When you have more ball possession, you don't need to worry too much about what you need to do when your opponents have the ball."