Premier League
KL, Terengganu, NS and PKNP to battle it out for two spots into the 2018 Super League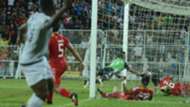 The 2017 Malaysia Premier League season completed its match day 18 on Tuesday and with only four more round of matches to go, four teams are within a point of each other as they try to secure promotion to the 2018 Super League.
As it stands, Kuala Lumpur (KL) leads the table on 38 points with Terengganu behind in second place only because of an inferior goal difference. Meanwhile Negeri Sembilan and PKNP FC are on 37 points each.
Johor Darul Ta'zim II (JDTII) are in fifth spot but due to the rule which prevents them from reaching the Super League unless Johor Darul Ta'zim are relegated to the second tier, they are out of the promotion contention. 
Although mathematically, UiTM FC could still garner a maximum 12 points from the remaining four matches to reach a final tally of 39 points, they are likely to be out of hunt considering they would require the aforementioned top four to drop considerable amount of points together.
KL has been a revelation in the second half of this season since Fabio Joaquim Maciel da Silva took over as head coach. They continued their surge to the top with another win on Tuesday, beating hapless PDRM 3-0 with Ashri Chuchu, Paulo Josue and Guilherme de Paula all getting on the scoresheet.
The big clash between Terengganu and Negeri Sembilan saw both sides going away with a point each. The Turtles staged a comeback after going 2-0 down due to goals scored by Jonathan Behe. Tchetche Kipre grabbed his own brace to help the home side to snatch a late draw.
As for PKNP, they had to play their home game at Batu Kawan Stadium in Penang after the field at Perak Stadium failed to meet sufficient standard for matches to be played. Shahrel Fikri and Hafiz Ramdan got the goals on either side of half time to keep their push at the top.
Of the remaining fixtures, KL probably have the easiest of run-ins. A vital clash against PKNP in MD19 is followed by easier matches against UiTM, Sabah and JDTII. Which gives them the best chance of securing one of the two promotion spots.
Terengganu have it all to do as their last four matches are away ones. Given how the matches are spread out over the course of three months, Irfan Bakti's team are unlikely to be troubled by fatigue but face a tough task playing so many matches away.
The fixture calendar is also kind on Negeri Sembilan as they only have PKNP to contend with along with matches against lowly PDRM and Sabah. The other match against UiTM is not expected to trouble them either.
PKNP's task is arguably the toughest, given that in their last four matches, they will need to face three of the fellow promotion-chasing teams. KL, Negeri Sembilan and Terengganu clashes awaits with a Kuantan FA tie sandwiched in between. On the bright side, Abu Bakar Fadzim knows that if they win all of those matches, they can decide their own fate.
It looks like an exciting end to the 2017 Premier League season, which team do you fancy reaching the Super League next season?