Kelantan
Gomis given lifeline by KAFA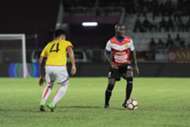 Fresh from being dropped by Kelantan for the 2018 season, with his place taken by Mohamed Ghaddar, Morgaro Gomis has been given a lifeline by the president of Kelantan Football Association (KAFA) Bibi Ramjani Ilias Khan.
As reported by Sinar Harian, KAFA will give Gomis time to recover from his injury and will re-look into his situation when the mid-season transfer window comes around. The midfielder Gomis has been a mainstay with first team but with the lack of goals in the team on top of his injury, it allowed Ghaddar a chance to return to the team he left in the middle of last season.
"The MRI scan showed a level two tear on his thigh which requires Gomis to rest at least three weeks. Even though we have taken hi out before the closing of the first transfer window, he could still feature in the team planning later in the season."
"Gomis is strong, even in pain he still wants to play. He was actually injured prior to the friendly match against Buriram United and as such was not able to be fielded. We didn't want to take the risk in case his injury worsen. In fact, he knew of the scan result and we want him to recover well," said Bibi Ramjani in that report.
With the team firmly rooted at the bottom of the table, Kelantan will have to resume their Super League campaign on a positive note if they are to escape from the relegation zone. They have only collected a solitary point thus far from a draw against Terengganu FC but have lost their other two matches.
The recent run also led to the dismissal of Sathih Bensoh from the head coach with Yusri Che Lah in temporary charge until a new appointment is made.