Kelantan
Kelantan win a temporary respite from future struggles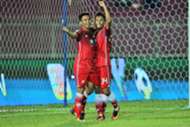 ---
BY        ZULHILMI ZAINAL       Follow on Twitter
---
On Saturday Kelantan recorded their first win after six competitive matches, defeating a lacklustre Kuala Lumpur (KL) 4-2 at home in their league match.
The Red Warriors were able to come away with the three points despite the fact that they fielded five players aged 21 or younger, and only one foreign player at the start of the match.
The result may have got their fans hopeful again, but the future remains bleak for the East Coast side.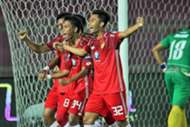 Kelantan players celebrating their goal against KL. Photo from Football Malaysia LLP
First of all, despite the win, Kelantan remained in eleventh place, in the relegation zone, one point behind Melaka United who lost 2-0 to PKNS FC on the same night.
The win against KL too was not as impressive when the facts are scrutinised. The visitors were without their talismanic Brazilian striker Guilherme de Paula and head coach Fabio Maciel, who were both handed last-minute suspensions by the Malaysian FA (FAM).
On top of this, KL have been outright terrible on the road this season, and a win at home was the only acceptable result for the Red Warriors.
However, Kelantan's woes this season have also been taking place off the pitch.
Following their 2-0 defeat to PKNP FC last Wednesday, head coach Fajr Ibrahim summarily tendered his resignation, a decision he ultimately retracted following a meeting with club president Bibi Ramjani Ilias Khan.
A football club manager or coach resigning only to change his mind a few days later rarely warrants a second look by anyone, but not when the coach has only had the job for two months.
And in the short while the Syrian has been at the club, he has been adopting a strict and almost autocratic coaching approach; banning his men from coming to training with their smartphones, and axing the more senior players who have been struggling, including captain Badhri Radzi and goalkeeper Khairul Fahmi Che Mat.
The fact that he lost faith in his plans so shortly after coming on board and demanding their club legends be sent away, is enough to let their fans know that Fajr is not as strong-willed as he has been trying to made himself appear to be.
And their axing of senior players may cause a fallout that will take even longer to subside. They now need to sign new local players in the mid-season transfer window, which is not something easy nor cheap to do in Malaysia, if they want quality players. In releasing senior players to shrink down their wage bills, they may just incur bigger expenditures.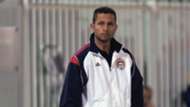 Fajr Ibrahim. Photo from Getty
It is also worth noting that Brazilian defender Cassio de Jesus was the only foreign player fielded against KL, while their remaining three imports were not even on the bench. Perhaps it's not too wild a conjecture to predict that the Red Warriors will change a few, if not all of, their imports in the coming transfer window, something they have not done particularly well in the past few years.
Another regular occurence at the club may also rear its ugly head again; wage dispute. Most recently, midfielder Veenod Subramaniam, one of the players cut from the roster, has been quoted by the New Straits Times as saying that he hasn't been paid his wages since February, and was not released in a professional manner by the club. He is unlikely to be the only player to come out against the club, and Kelantan may face another points deduction or transfer ban, or both, when the cases are escalated to FAM.
The win against KL could prove a false new beginning, while the road towards the end of the season and top-tier safety remains rocky for the two-time Super League, FA Cup and Malaysia Cup champions.