World Cup
Keep calm and coming home? England overcome woeful World Cup penalty record to beat Colombia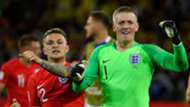 If you say something often enough does that make it come true?
Ask any England fan in Russia or at home for that matter about the rumour and they'll tell you "it's coming home".
The song has become a byword in optimism. It stands for a renewed sense of hope – a new belief – in Gareth Southgate and his Lions.
"Everyone seems to know the score / They've seen it all before / They just know, they're so sure / that England's gonna throw it away, gonna blow it away..."
But as Yerry Mina leapt to score his third goal of the World Cup – and three minutes into injury time – England were playing out the bad part of Baddiel and Skinner's famous lyrics.
Southgate attracted criticism for his in-game management, rare during his time at the England helm. His decision to bring on Eric Dier to shore things up late on backfired. England retreated into defensive mode and Colombia – clinging on for their World Cup lives – made haste for an equaliser.
England couldn't rouse themselves and seemed to be destined for the place so often inhabited by their teams of the past.
Extra-time was played in a wobble; uncertainty in the ranks until the manager corrected the shape. They survived long enough to get penalties. Describing that outcome as a reward to an Englishman might seem a cruel joke.
Remember, though, the next part of the lyric:
" But I know they can play… "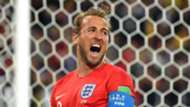 There was a belief in the way Harry Kane, Marcus Rashford, Kieran Trippier and – latterly – Dier performed under the intense pressure of spot kicks. Jordan Henderson might have missed but he was bailed out by the night's hero in the England goal Jordan Pickford.
His save in injury time from Mateus Uribe was world class. And his stop from Carlos Bacca in the shootout was equally great.
They've been here three times before in World Cup shootouts and lost every single one. Looking around the stadium after it was all said and done, it was hard to believe it was the Colombia fans cursing their fate and the English ones jubilant.
This doesn't happen to England, does it?
This was as stern an examination – on a mental level – that England have had under Southgate and they pulled through. But it was a lot harder than it should have been.
The fear was that England got the worst outcome after their loss to Belgium. It may have been pessimism on the part of the English; preparation for the worst just in case it transpired. But for long spells here there was nothing like that to worry about.
England fans who might not have caught any of Colombia's group matches must have departed the Spartak Stadium wondering what the fuss was about. The South Americans did not lay a glove on England until the last 10 minutes of normal time. Colombia instead were a team at war with the referee Mark Geiger.
England simply let them get on with it and continued to do their stuff. For a team collectively so inexperienced in major tournaments, it was a mature night's work for large parts and most of it will leave them confident ahead of a quarter-final against Sweden next weekend.
The last-minute lapse will have to be examined though. There is simply no way that England should have fallen into that trap. Colombia didn't deserve a draw on the balance of play and England invited it upon themselves.
They barely conceded so much as a chance until a Kyle Walker stumble permitted Carlos Bacca to set up a wayward Juan Cuadrado shot. Then came Pickford's scarcely believable save before the fateful corner.
Colombia were limited. Coach Jose Pekerman effectively shackled his own side by utilising three central midfield players of a fairly similar playing style. They didn't have that added dimension usually provided by James Rodriguez through the lines.
Instead Cuadrado, Juanfer Quintero and Radamel Falcao were stranded against England's well-honed defensive mechanisms, which snapped back into place every time they lose the ball like an elastic band.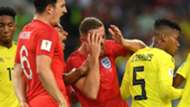 It was always going to be a game of relatively few chances. Colombia paid immense respect to England's breakaway capabilities and were rarely caught short. And England – for all their progress at this tournament so far – still lack the ability to fashion goals from open play.
But Carlos Sanchez – for the second time in four matches – conceded the penalty which brought the facade crashing down. You will not see a more blatant penalty and right under the referee's nose too. The American official missed plenty – including what should have been a pair of red cards for Wilmar Barrios and John Stones respectively for off-the-ball offences – but there was no doubt that his decision there was the correct one.
Harry Kane knocked home his sixth goal of these championships with the confidence of a man at ease with shouldering the hopes of a country maybe now a little less hopeful and a little more expectant.
From the penalty on, Colombia grew in hostility. Their challenges were bordering on the malicious; their complaints futile. Where their captain Falcao should have been the one to calm them down and make his team-mates get on with their tasks, he was instead stuck in the middle of it.
Colombia were losing precious time and expending needless energy on battles they could never win. They appeared to be trying to goad England into a response. They got one from Stones, who looked to have stood with some precision on Falcao's head but for the most part England parried it all away.
Cooler heads eventually prevailed. The shootout was ice-cold. England kept calm.. and carried on singing about football coming home.