Kaizer Chiefs
Kaizer Motaung Junior: I want to add value to Kaizer Chiefs management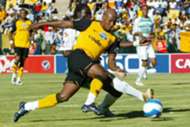 Kaizer Motaung Junior says he is learning a lot from Kaizer Chiefs chairman, Kaizer Motaung, and revealed that he is honoured to return to the club after completing his studies.
Motaung Junior recently graduated with a Bachelor of Commerce degree in Financial Management and he will be roped in the club's management.
"Believe me, it is an honour to be here and I wanted to look at things from a different perspective, from many years on the pitch and learned a great deal," Motaung told the media.
The former Amakhosi striker announced his retirement from professional football five years ago and he is now looking to learn from his father, Motaung senior.
"I want to be a sponge and learn. I am privileged to have someone like the chairman (Kaizer Motaung) around to get the knowledge," he said.
"I would love to learn and to add value and that's the gist of what I will be doing because at the end of the day it is about giving back to the club," added the 37-year-old.
Moreover, the former 1860 Munich II player revealed what inspired his decision to return to class.
"Education is not about family or anyone, it is about you. It is a personal achievement that no one is going to take away," he continued.
"For me, it was something that I have always wanted to do or to achieve and I took the decision in 2014 and I studied full time and focus on it (my studies)," he explained.
"I have my own family, I have two boys and I want to do the best I can for them and provide the best life I can for them. You need to lead by example. If I want my boys to push and arm themselves what is the best way (than getting educated). Kids don't do what you say, they do what you do," he concluded.