African Nations Championship
Kaizer Chiefs help limping Bafana Bafana with three defenders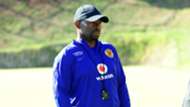 Kaizer Chiefs have agreed to release three of their players to the Bafana Bafana camp ahead of this weekend's Chan qualifier away to Zambia. 
Kgotso Moleko, Sibusiso Khumalo and Siyabonga Ngenzana have all reported for training following 10 withdrawals from Stuart Baxter's initial squad.
Baxter and his assistant Thabo Senong were last week made aware that Menzi Masuku, Shane Thompson, Tshepo Mabua, Keegan Pool and Gift Motupa will not form part of the Bafana squad for the trip to Zambia. 
Tercious Malepe is suspended for the encounter, while Asavela Mbekile has been excused due to family bereavement.
Mpho Rasilingwane and Thato Lingwati were both recalled by Jomo Cosmos alongside Richards Bay FC defender Sandile Mthethwa.  
Senong was forced to cancel Bafana's training session on Tuesday morning as he only had 15 players to work with.
However, there were 19 players for the afternoon session following the arrivals of the Amakhosi trio. 
Senong explained the reason behind the 10 withdrawals, but he admitted that clubs were well within their rights to recall their players.
"We've had 10 withdrawals' of course the main reason being they have to honour their various club fixtures starting this weekend'" Senong told the media.
"We had no choice but to continue and begin making replacements. We've already submitted names to clubs and we hope that by tonight [Tuesday] or tomorrow morning we'll have a few of them. When we started these Chan preparations we tried to bring in some players from the NFD. But certain clubs have had challenges in their registrations' especially of foreign players," he said. 
"So they had no choice but to get their key players back," added Senong.