Juventus
Juventus are on a par with Barcelona and Real Madrid – Douglas Costa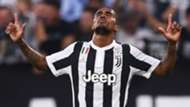 Douglas Costa has said that his Juventus side are on a par with Barcelona and Real Madrid.
The Turin giants have made a slow start to the season by their usual standards and find themselves second in Serie A, one point behind leaders Napoli. 
Despite this, the 27-year-old summer loan recruit from Bayern Munich believes that June's Champions League beaten finalists still rank among the best sides on the continent.
"Juve are incredibly strong, on a par with the likes of Barcelona and Real Madrid," he told the club's official website. "We've some of the best players in the world here. It really is a fantastic club."
The former Shakhtar Donetsk star says he has had to adapt his style to playing in Italy but believes that he can find his best form for Massimiliano Allegri's side.
"I've worked a lot on the tactical and defensive sides of my game in the last few months, trying hard to improve. Serie A is very different from the Bundesliga or the Ukrainian league. I still have a lot to learn but I feel confident," he said.
"Federico Bernardeschi, Blaise Matuidi, Rodrigo Bentancur and I are all new signings and we're working hard at developing tactically.
"I think it's a learning curve: every day you learn a bit more about what it means to be at Juventus." 
Juve tackle fourth-placed Roma on Saturday as the winter break approaches.