United States
Jurgen Klinsmann failed his ideals but not American soccer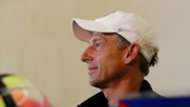 When Jurgen Klinsmann arrived as U.S. national team coach, he promised lofty goals. He preached elevating the play to something more dynamic than defend and counter. He spoke to overhauling a broken developmental system.
Five years later, those promises remain largely unfulfilled. His U.S. sides often played ugly, and his attempts to change the system may take years to deliver any fruit — if they do at all.
But failure in the goals Klinsmann set is different from failure as U.S. coach. Despite celebrations that would indicate Klinsmann's failure was a catastrophe to the level of the 1998 World Cup, the reality was the German coach achieved plenty of heights as U.S. boss. He also came close to achieving even more, but fell just short — a resume that puts him on the level of his predecessors Bob Bradley and Bruce Arena.
The 2014 World Cup saw the toughest group the U.S. has managed to qualify out of: The eventual champion Germany, a Portugal side that would win the European Championship two summers later and a Ghana team that perhaps played the Germans better than any team in Brazil, fighting to a 2-2 draw.
Was it pretty? No, but the U.S. arguably was considered the weakest team in that group. Just getting results should have been good enough.
If those contests were ugly, the Belgium game was nightmarish. But despite the World Cup dark horses' gaudy shot total, the U.S. could have still walked away with a memorable win, either by Chris Wondowloski converting or the furious comeback in extra time that fell just short.
And with hopes low given a difficult group in the Copa America Centenario this past summer, Klinsmann's side again exceeded expectations, winning its group and making the semifinals before an Argentina side that would make its third major tournament final in three years outclassed it.
There were bad moments, too. But even those moments could have gone differently with a bit more luck.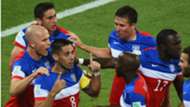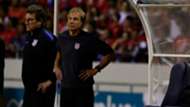 When the U.S. lost to Jamaica in the 2015 Gold Cup semifinals, it was the better side throughout — but execution errors and poor finishing let the Americans down. In the CONCACAF Cup, the U.S. was outplayed but found itself a few minutes away from penalties against a better Mexico side before surrendering a late goal.
And there were his final matches — a shellacking on the road at Costa Rica — something all too common among for a U.S. national team that has lost by at least two goals in that World Cup qualifying fixture now five straight times, and a performance against Mexico that, like the Jamaica loss, could have been a win with better execution.
If these sound like excuses, they're not. That close losses can turn into wins and visa versa is the reality of the job and the sport itself. And its the same reality that happened to his predecessors.
Take the man he replaced, Bob Bradley. The current Swansea coach built much of his legacy on the 2009 Confederations Cup upset of No. 1-ranked Spain. It was a game that saw U.S. on the back foot for most of the contest, but the Americans nabbed opportunist strikes and held on for dear life. It wasn't dominant, and it was lucky, but it was impressive, given the opposition.
In the final, the U.S. attempted to repeat its strategy after grabbing an early lead, but Brazil was not as wasteful as Spain and pulled off a 3-2 victory as it ran over the overmatched U.S. in the second half. Disappointing given what could have been if just a little more fortune had shined on Bradley's men — but hardly an unjustified result.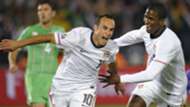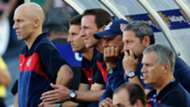 To even make that spot, the U.S. had to rally from getting mauled in two games against Brazil and Italy by a combined 6-1 score, handily beating Egypt 3-0 in the group stage finale while Brazil laid a 3-0 beating of its own on the Italians. Without either of those two blowouts, or Italy's surprising loss to Egypt, the 2009 Confederations Cup would have been seen as a failure.
In the 2010 World Cup, the U.S. was a minute away from elimination against Algeria before Landon Donovan's magical moment sent the Americans to the knockout round. Then Bradley's men rallied after a nightmare start from Ricardo Clark against Ghana, forcing extra time but losing 2-1 in heartbreaking fashion.
And Bradley's final game saw the U.S. go up 2-0 on Mexico in the 2011 Gold Cup final before El Tri asserted their dominance — aided by a Steve Cherundolo injury — and won 4-2. While there's no shame in that, it came after the U.S. failed to win its group that year and needed a 76th-minute Clint Dempsey goal to get by Panama in the semifinal.
And before Bradley, there was there Arena who, despite a memorable "dos a cero" result to start the 2001 Hexagonal, could have found his U.S. side out of the 2002 World Cup. A home loss to Honduras and road loss to Costa Rica had the U.S. in fourth, with Honduras in the driver's seat for the final qualification spot. But an 81st-minute penalty against Jamaica and a Honduras loss to Trinidad and Tobago paved the way for the U.S. to rally and make the 2002 showpiece event.
Most remember how the U.S. played one of its greatest games against Germany in that 2002 World Cup, but many forget that if not for South Korea scoring a late goal against Portugal in the last set of group-stage games, the U.S. would have been eliminated after an embarrassing 3-1 defeat to Poland. Without a result that was out of their hands, the best modern World Cup for the U.S. would have been its second-straight disappointment.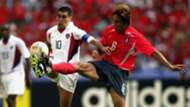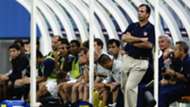 Arena's 2006 World Cup is in many ways, the reverse. It is largely considered a disaster, yet was fairly similar to 2002, in more difficult circumstances, but the luck that was there in South Korea abandoned his side.
People remember the opening loss 3-0 to the Czech Republic, but it was not much different than the Poland embarrassment. The 1-1 draw against eventual champion Italy may have been a win for the U.S. on a different night, and while the 2-1 loss to Ghana saw the Americans outplayed, the Americans have been outplayed by better sides before and gotten results. It just was not to be in 2006, and Arena was out as coach.
Arena's teams always lived life on the edge of failure and incredible success. His side could have missed out on the 2002 World Cup as easily as it could have been a semifinalist. Just as Bradley's squad could have been both a World Cup failure and Confederations Cup champion. And so too, Jurgen Klinsmann's team could have crashed out in 2014 or equaled Arena's 2002 side.
While it's easy to point to Klinsmann's larger salary as a reason for failure the fact remains he was paid to be both coach and technical director. The results of important changes to the youngest levels of youth play may not be seen for years — making that aspect of his tenure hard to judge. While the U.S. did not qualify for an Olympics under his tenure, the players taking part were by and large product of the system in place before his arrival.
There is also his recruitment of dual-nationals, which already paid dividends in both of Klinsmann's most successful tournaments in the form of John Brooks and Fabian Johnson. Should Julian Green, Aron Johannsson, Gedion Zelalem and/or another player pay off in the future, how much would that be worth to the U.S. program?
And finally, it's easy to suggest the U.S. could have hired with a cheaper manager, or stuck with Bradley. But would that manager been able to guide the team out of such a difficult World Cup group or navigate the team to the Copa America semifinals? Perhaps that manager delivers a better 2015 Gold Cup. It's impossible to know and pointless to speculate. 
What we know is Klinsmann, for all his strengths and weaknesses, had plenty of success in his five years as U.S. head coach and some notable failures. Just as Bradley and Arena did. 
So while Klinsmann may not have met his own stated goals, it's unfair to call him a failure as U.S. coach. Instead, while he couldn't match his success as head coach of Germany, his results here proved to be as American as the two coaches before him.