Super League
Nazmi ecstatic to end blank run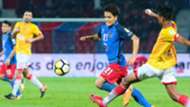 Nazmi read the movement of Safawi Rasid who have shifted from the right to the left hand side of JDT's attack. As the latter drove towards the byline, Nazmi was making his way to the centre of the box. The pass was accurate and Nazmi reeled away in celebration.
It was his first goal of the season and he did it against a team that used to be his paymasters. But more importantly, it was one which continues to keep JDT four points away from chasing, Pahang.
After two matches back on the bench, Nazmi returned to the starting line-up once again and the continuous on-pitch minutes is doing the midfielder a world of good.
"I was entrusted to play in the starting line-up tonight [Wednesday[. There are still plenty for me to learn from the foreign players and seniors. I'm still not satisfied with my performance and there are many aspects that I need to fix in the future."
"In my opinion, Safawi's first touch at that time gave me confidence to attack and it was my fortune as my attempt found the back of the net. For me, we need to always give 100% in every match.
"We need to focus on two more trophies, which are the M-League and the Malaysia Cup. Both are very important. This win was also very important for Johor Darul Ta'zim FC (JDT), team-mates and fans," said Nazmi after the match.
The one that Nazmi keeps out is none other than Safiq Rahim. It's a healthy competition and while Nazmi perhaps is still some distance away in terms of being able to dictate a game like Safiq can, confidence is slowly but surely streaming back into Nazmi's game.
The appointment of Raul Longhi as head coach seemed to have worked in favour of Nazmi as for the first time since he joined JDT in 2017, he's starting to be a permanent figure in the first team. 
At just 23 years of age, time is very much still on Nazmi's side and it can only be good for Malaysian football in general if he have found his optimum game back. While obviously delighted with the opportunity he is getting, Nazmi is quick to point there's still plenty for him to learn off Safiq.
R"egarding Safiq Rahim, to me he is a good captain and leader. I will always look up to him. He is a legend in Malaysia and also in JDT. His experience, stamina and style of play should earn everyone's respect," added Nazmi.
It will be interesting to see who Longhi selects to start when they travel to Paroi to face bottom place Negeri Sembilan on Saturday.