WC Qualification Africa
Johnson speaks on retiring Gyan and Ayews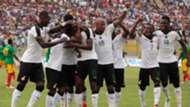 Former Ghana international Sam Johnson is unhappy with calls for some senior players to be sidelined from the Black Stars in the wake of recent poor performances.
Captain Asamoah Gyan, West Ham United ace Andre Ayew and Swansea City attacker Jordan Ayew have come under incessant attacks for below par outings in the national shirt.
And their plight was not made any better by their lack of impact in the disappointing home draw with Congo in 2018 World Cup qualifying on Friday.
"I don't understand why some people are saying Asamoah Gyan should retire and Dede and Jordan Ayew should not be invited into the national team again," Johnson said, as reported by Football Made in Ghana.
"Yes indeed their strength might have got down but we can do it in a nice way than [cutting] them off from the team. 
"We shouldn't forget that these same players have made Ghana proud before, so we must exercise patience other than calling for their early retirement. 
"It is very bad, people must stop that.
"They have big roles to play in the team and we must not be ungrateful to them. 
"Ghanaians are fond of doing that, we have done this to so many players including Richard Kingston and Stephen Appiah but here they are today performing different duties for the nation in the team, we must stop killing the players."
Without Gyan and the Ayews, Ghana put up a five-star performance in the return encounter against Congo on Tuesday, running out 5-1 victors.
The score has seemingly only heightened public opinion that the Black Stars may be better off without the trio.