PSL
John Comitis wants to move Cape Town City's clash with Kaizer Chiefs to Newlands Stadium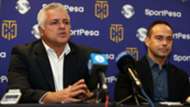 Cape Town City boss John Comitis wants to move their next Premier Soccer League (PSL) clash against Kaizer Chiefs to the Newlands Stadium.
John Comitis has been left livid by Cape Town Stadium authorities after more than 800 fans were turned away from buying tickets for their MTN 8 first-leg encounter against Bidvest Wits at the Cape Town Stadium on Sunday.
This has angered Comitis as his plea to let their fans in fell on deaf ears despite police having the capabilities to deal with such numbers.
He has now issued a strongly-worded statement in which he has expressed his dissatisfaction and his wish to move the all-important clash scheduled for September 13, to the Newlands Stadium. 
"I could not get myself to celebrate when the final whistle went. I was angry and disappointed with the attitude of the city and especially the police services under Colonel Engelbrecht, who would not concede to co-operate in any way to assist by allowing more tickets to be sold for the 800 odd fans stranded without tickets. We have worked around the clock to bring big time football to the city with Cape Town City and 20 years later football is treated with the same stick as always. If this was a rugby 7's game and the stadium was empty they would move Table Mountain to accommodate the fans," Comitis said in a statement.

"I went into the VOC to try and persuade the police and ticketing security to allow for at least 800 more sales. The stadium was empty, the final figure was 3800 but we had budgeted for 5000. But, my plea fell on deaf ears. There was zero tolerance, zero co-operation, it seemed they were more excited to be dealing with the possible trouble makers that were stuck outside. After thorough investigation, we learnt that security personnel on duty at Cape Town Stadium were within legislation to handle the extra 800 spectators. WHAT A DISGRACE! I want to move our upcoming Absa Premiership match against Kaizer Chiefs, to Newlands. This treatment to the Cape Town City fans was unacceptable. I can only apologise to our loyal fans. I was gutted for them.

"With this attitude by City Services, Cape Town Stadium will remain without Bafana games and soon without football. It was mostly families with their kids that were denied access. Hardly a risk factor that could not be managed. We will work tirelessly to ensure that Cape Town City fans are never disappointed in that manner again," the statement concluded.