PSL
It was an awkward game, admits Sundowns coach Mosimane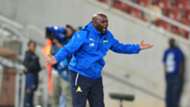 Mamelodi Sundowns and Chippa United played out to a goalless draw on Wednesday morning. The match had to be resumed in the 42nd minute following power failure which saw the match being abandoned on Tuesday night.
After the match, Masandawana coach Pitso Mosimane was pleased with the point but believed that the encounter had an odd feeling to it.
"A very Awkward game," Mosimane said after the game.
"It reminds me of when we played (Orlando) Pirates and we had to come back and play the last six or seven minutes. We were never there in that game."
"We were on this game to be honest. We tried and we had opportunities, but it was a very awkward game. It was not a nice 90 minutes, which has a nice flow and momentum. We were playing 45 minutes today. It is easy to defend and die hard in 45 minutes. We tried to score. We tried to do whatever we had to do. We'll take a point but we are disappointed," Mosimane said.
The former Bafana Bafana coach also explained his decision to make a number of substitutions and was full of praise for Teko Modise, who came on as a second half substitute.
"We had to make the changes and throw everybody in, and by the way Teko (Modise) played very well," Mosimane said.
"The last seven minutes he came on and he gave us two or three balls in there. He played well. I'm happy for him... he came on and played very well."
Mosimane was also extremely pleased with referee Chris Harrison's performance throughout the encounter.
"I want to comment on the referee," Mosimane said.
"He was good. I think Harrison is building a very good profile for himself. He conducted the game, even yesterday, very well. He is one of the up and coming (referees)."
"He is calm and cool and he takes the right decisions and he is in control. I think they kept him too long on the sidelines. He is a good referee. We need to promote our own referees."
The 52-year-old also elaborated on the effects the extra day may have as Sundowns are scheduled to take on Cape Town City on Friday night.
"We can't complain because we only played 45 minutes," Mosimane said.
"It can't affect Friday. It was like a training match. We train all the time in the mornings and regenerate. So, we could maybe train in the morning for 45 minutes, it doesn't build fatigue. Otherwise we are looking for excuses," Mosimane concluded.