ISL 2017-18: 'One game at a time' for gallant Gurpreet Singh on the verge of maiden league glory
---

BY NISANTH V EASWAR   

 Follow @Niktheblue94 on Twitter
---
Some goalkeepers have trouble claiming crosses into the box. Some of them aren't comfortable making reflex saves. But then there is Gurpreet Singh Sandhu who can do it all.
Since leaving Stabaek for Bengaluru FC in the summer of 2017, Gurpreet has had an enjoyable season in the Indian Super League. And now, for the first time in his career, he is on the verge of lifting a league title.
"It is always a great feeling to play in this kind of atmosphere (as Bengaluru faced Kerala Blasters on March 1) where the fans are very loud. With the West Block Blues and especially, the Kerala fans," said Gurpreet Singh, as he sat down for an exclusive interview with Goal.
"I haven't won it (league title) yet so I don't know (about the feeling).  If we win, it'll be a great feeling to have achieved something that I haven't before. We take one game at a time and that's what the aim is right now."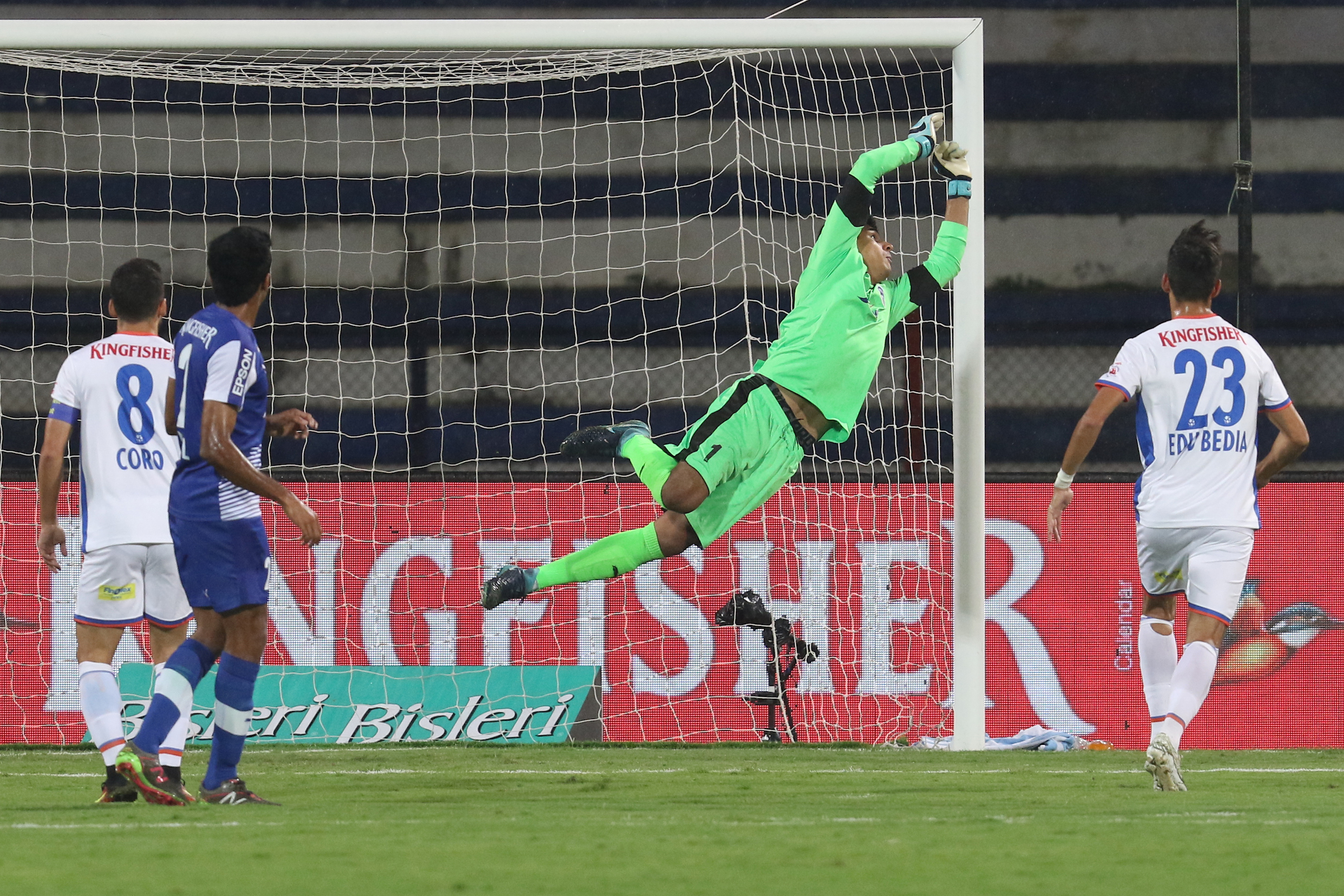 It has not been easy for goalkeepers in the Indian Super League this season. From fumbling fingers to brain fade moments, this season we have seen all kinds of blunders committed by the guardians of the goal. But the Indian national team goalkeeper feels that it is important to learn from these mistakes.
"I think it's only a learning curve. If you don't make mistakes, you won't learn. No one is perfect. If you want to play at a high level, if you want to raise your level, you are going to make mistakes."
Bengaluru might have put two late goals past Kerala Blasters goalkeeper Paul Rachubka but the Manchester United academy graduate is Gurpreet's favourite goalkeeper in the Indian Super League.
While he acknowledged the efforts of veteran Subrata Pal in between the sticks, the Bengaluru custodian also believes Pune City's Vishal Kaith has done well. 
"I think Subrata Pal has had a very good season. I love how Paul Rachubka plays. I absolutely love his goalkeeping. I am very impressed by Vishal Kaith, the way he has developed through the season. It is always nice to see goalkeepers like him and Amrinder Singh do well. 
Vishal Kaith's growing stature also means Gurpreet might face stiff competition for his spot in the national team but the former East Bengal player is not worried. "If you have competition, then it is always better for me. I have someone to push me. It is a bonus for me."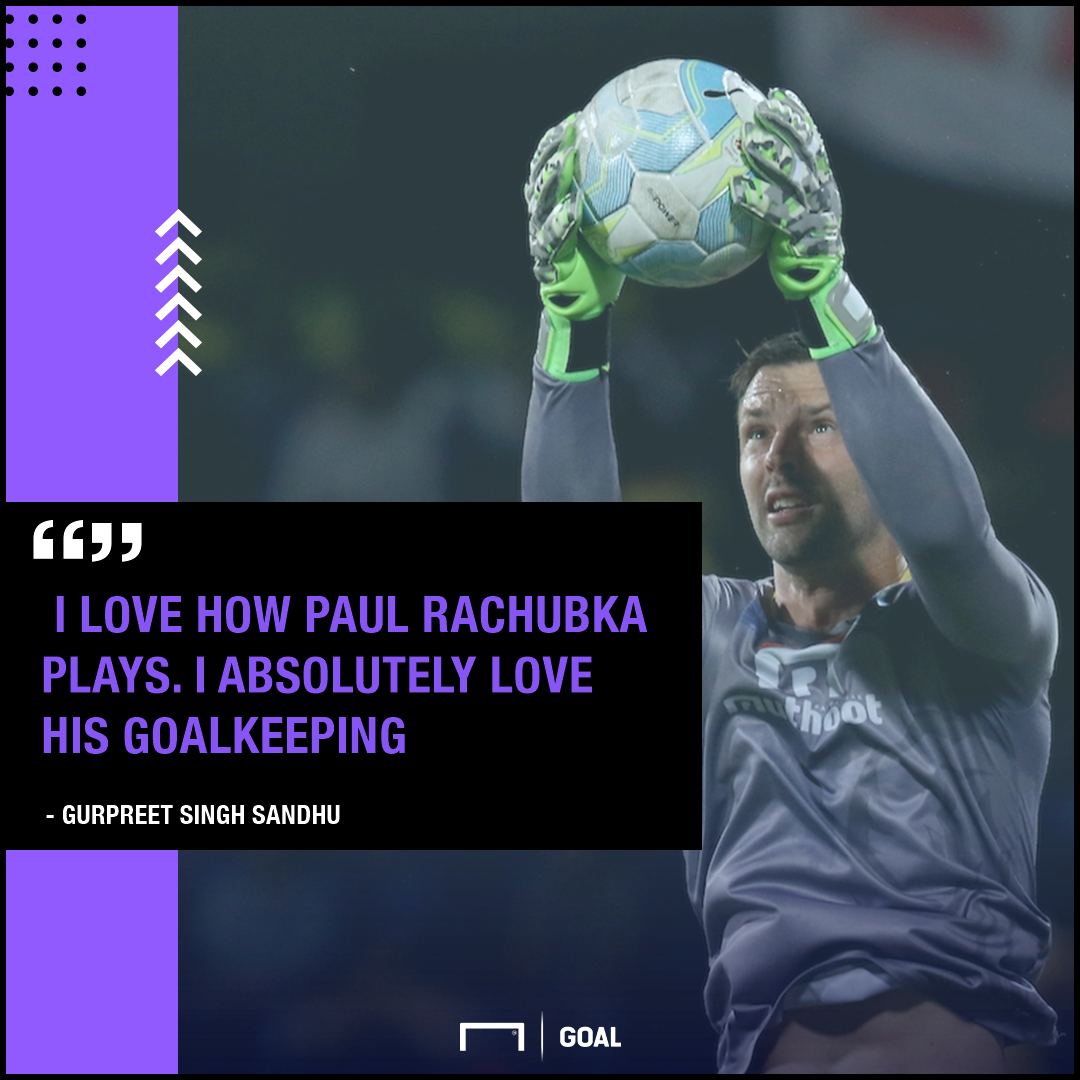 Bengaluru are all set for a two-legged semi-final round against Pune City in ISL. Interestingly, as the race for the playoffs went down to the wire, Gurpreet was faced with the prospect of facing three teams that play different styles of football and for him, a dominant Bengaluru FC fits nicely with his style of goalkeeping. 
"It is not going to be easy. When it comes to a stage like the semifinals, it raises the level of the football played. It won't be easy.
I think its to better to face fewer shots rather than keep on consuming attacks. If we face a team who plays on the counter, then we have the advantage because then we are dominating the game. Then we have chances to score," argued Gurpreet, who has faced 51 shots on target in 16 games so far in ISL. That's around 3.2 shots per game. He has saved 38 of those!
The Indian national team have qualified for the finals of the AFC Asian Cup in 2019 and the preparations for it will start soon after the Indian Super League is over. Despite all the recent mumbo jumbo in the media about an alleged player revolt against national team coach Stephen Constantine, the Englishman signed a contract extension. Gurpreet Singh termed his achievement with the team as phenomenal and had glowing words of praise for Constantine. 
"What he (Constantine) has done in the past few years has been phenomenal. I don't think the national team has ever recorded a season or a year where they have gone unbeaten. It is a phenomenal achievement for the coach and for the team.
With the Asian Cup, we need to be very smart and make sure that we have the right kind of preparation. We need to use all the available international windows, we need to play as many games as possible against tough opposition. For sure, I think they are working on it and they will plan it."
However, the less-than-phenomenal seasons of national team defenders Anal Edathodika and Sandesh Jhingan could be a hindrance to Constantine's plans for the Asian Cup. And that is where his club teammates come into the fray. 
"I think with regards to injury, you can't say anything. It is something that comes naturally. I hope Anas gets fit before the Asian Cup and I am sure he is working on it. 
With regards to Sandesh, he has played all these games for Kerala Blasters and he has been available for all these games. He has had a long season as well and he has been the leading figure in Kerala. So I am sure that he is working on it and he is looking at the Asian Cup as something that he needs to be ready for. 
On the other hand, if you look at other Indian defenders, the likes of Subashish (Bose) and Rahul Bheke, have played really well. I am sure that our coach has had a look at them during the league and is making these other options ready for the future," hoped Gurpreet.
An exciting year awaits the tall custodian but Gurpreet is not getting carried away by how well he has performed this season. With the Indian Super League trophy and an Asian Cup competition in sight, the Bengaluru goalkeeper, in his own words, is focusing on one game at a time.