Indian Super League
ISL 2018-19: Eelco Schattorie - Totally not happy with the way we played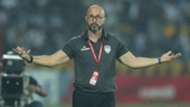 Eelco Schattorie saw his 10-man NorthEast United side climb back to the top of the Indian Super League (ISL) standings after a 1-1 draw against Jamshedpur at Guwahati on Thursday.
The Highlanders were leading through a Bartholomew Ogbeche first half strike before defender Mislav Komorski was shown a straight red at the stroke of the interval. The visitors equalised in the second half through Farukh Choudhary but Schattorie was still happy to bag a point after his side went a man down.
"For one, I am very happy with the point. After the red card, everybody worked as hard as possible to get the result. It could have even been three points (for them) if you ask me given the way we gave the ball away. Two, totally not happy with the way we played especially after the first half. After a week of training, I wanted to see two to three players on how they would do in the current situation," the Dutchman shared his thoughts.
"We gave them confidence. They were pressing us and we didn't know how to deal with that and that is something I really don't like. You need to have confidence when a team is pressing you to get out of that. When you start hiding, the pressure will only increase and the game will change. With that part I am totally not happy but it is a process because till now we were not dealing with pressure during our games. The teams we played, expect for FC Goa in the opening game, we were never in such a situation," he continued.
"But eventually getting the result with 10 men and still being unbeaten is very good for the team's morale."
The NorthEast United coach refused to comment on the referee's performance on the night.
"The referee has to do his job and I do my job. He (Komorski) has to accept the referee's decision. There is no use to linger on that. We have a suspension now and other players will get the chance. There is nothing you can do about it hence, there is no point talking about it."
Following Komorski's red, Schattorie was set to put in another foreigner on the pitch and revealed he was unaware of the rule that forbade him from doing so.
"I will be honest as I did not do my homework properly. Because I thought when he (Komorski) comes out, I'll put a new one. Luckily, my team manager warned me. But overall, I would say if one foreigner comes out, you should be able to (put in another) but those are the rules and we cannot do anything about that," he explained.
When asked what positives he took from the display, Schattorrie replied, "Not much. Our striker scored and as a team we worked really hard for the result."
"I saw two-or-three players improve especially the young ones like (Nikhil) Kadam who have only played in the I-League before this. Last week, they were not so good, this week, a little better. Bit-by-bit, you have to try to be comfortable. As I said, in the end in football, result counts and we are still unbeaten and so that's always a good thing. I will always want to try to bring something for the people (fans) but also the players. In the training if you do well, you need to also execute it in the game."
The Highlanders now have two players suspended in the form of TP Rehenesh and Komorski which Schattorie feels could go two ways for his team.
"I think Jamshedpur have played four games and they didn't play even one match with the same team. How does that work? I always like to have stability and at a certain point, if someone is not performing, then only change," he stated.
"Now we are forced to make changes. On one hand it is good since other players will get a chance but you never know how it is going to work out. That is part of the football process and we will deal with it. No need to think about it in a negative way since you have to deal with it anyway."