Indian Super League
ISL 2018-19: Chennaiyin FC's John Gregory demands defensive improvement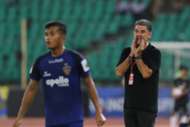 Defending champions Chennaiyin FC have to improve the defensive aspect of the game if they are to start picking up points, according to head coach John Greogry. 
The Marina Machans are without a point after three matches in the fifth season of Indian Super League (ISL). A visit to Delhi is their best hope yet of picking up three points as the Lions are winless this season as well. 
"The boys are feeling good, all very fit. All 25 players are in contention. We obviously know that playing against Delhi, we have a couple of our old players there from last season who have both got gold (champions') medals. We are expecting a tough game," Gregory said on the eve of the clash. 
Analysing the team's poor start, the Englishman said, "You can always look at the reason why we have not started so well. You can always make judgements and your own assessments. But the effort has certainly been first class.
"The effort that the boys have put in for all three matches is incredible. I certainly have no problems with the way that they have approached the games. It is just that we have made a couple of defensive mistakes. Big mistakes, which we rarely made last season in the 18 regular season matches.
"I think we had one game against NorthEast United,  away from home, where we didn't play well at all and that was really the only time where we were defensively not as good as we have been. My team last season was built on a really solid defence. It was always very difficult to score against us. That helped us to win the title.
"This season, we started well. We played well against Bengaluru and lost by a contentious goal that we thought was offside. But nevertheless, Miku finished it very well. But other than that, we defended well in that game. But in the last two matches, we haven't defended as well as we should do. That (defensive) side of our game has to improve.
"Last week, we worked so hard to get to 3-1 and then we just, people not marking when they should have been marking, people not concentrating when they should have been concentrating, it gave chances to the opposition and they took full advantage of it. Once we make sure that side of our game is good, I have got no fears about the rest of the season."
John Gregory's hopes achieving a playoff spot has not diminished at all. The champion coach believes the difference in points on the league table does not matter as long as the team achieves a top-four spot. 
"We just need to keep stringing together 2-3 wins. Even if you finish fourth, 150 points behind the team that finished first, if you are in the playoffs, you have got a chance to be champions at the end of the season. We were eight points behind Bengaluru FC last year," the coach recollected.
Lastly, the coach heaped praise upon Thoi Singh who scored a brace against NorthEast United in their 3-4 loss. 
"I did not realize that he had never scored before. You would have expected him to score in during the amount of time he has played for us. The goal that he scored, our second goal, in my opinion, was the goal of the game. It was exceptionally well worked. Isaac did brilliant and to get Thoi in that situation, even he could not miss in that situation. 
"Let's hope he keeps it up. He really played well. He has got a heart and a fantastic pair of lungs. He gives it everything. When he puts that shirt on, he gives his 100 per cent.