Indian Super League
ISL 2018-19: Chennaiyin FC assistant Sabir Pasha - We are getting better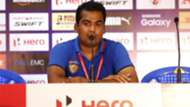 Chennaiyin FC have only earned a point after four matches in the 2018-19 Indian Super League (ISL) season. The defending champions were held to a goalless draw against Delhi Dynamos on Tuesday before traveling for another away fixture in Kolkata.
Assistant coach Sabir Pasha reasoned that the new players in the team are yet to find their feet and that they shall only improve in the games to follow.
"We have played four matches and we can see the cream of Chennaiyin FC being played. There are some new faces in the team. They are taking some time to settle down. It's an early phase. On the field, I think we're doing good. Day-by-day the level of our performance is improving. We're working on our mistakes but I think we are getting better," he said.
"We are playing for the top four. We want to be in the finals. It is a long way to go. Two years back everybody wrote us off. But we won the final. Sport is about how you perform on the day and we will do that tomorrow (Friday)," Pasha added.
The former Indian Bank forward also suggested that the pressure is often on the coach and not so much on the players per say.
"If John (Gregory) was here, he would have said that the pressure is on him. The pressure always comes to the coach and not to the players. They go onto the field and enjoy the game. The pressure is instead taken in by the coaches," he stated.
ATK haven't been in the best of forms either but Pasha maintained that they can ill afford to take them lightly.
"ATK is always strong. No doubt they have lost two matches at home. But they will come stronger tomorrow. They can't be taken lightly. They play really hard and put the opponent under pressure. We are serious about that and they can't be taken lightly," he signed off.