Indian Super League
ISL 2017: Joao Carlos de Deus says Bengaluru FC's goal-keeper woes not an advantage for his men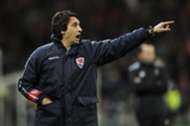 Ahead of their home encounter against Bengaluru FC, NorthEast United FC coach Joao Carlos Pires de Deus said his side had made significant advancements since their opening match against Jamshedpur FC.
"Bengaluru are a good opponent. For sure we are better today than we were 15 days ago when we played here against Jamshedpur FC. It is not because of the win (against Delhi Dynamos) but because of the 15 days of practice," he said at the pre-match press conference.
"15 days more of closeness to create our identity, so we are better. I am sure our opponents for tomorrow are better too than their first game, so tomorrow will be a good match," he added.
The Portuguese explained that winger Halicharan Narzary had become an integral part of the time after missing most of the pre-season.
"With Halicharan Narzary it was a difficult process for us since he didn't make in the pre-season with us. He was always away with the national team. He didn't know our concepts, didn't understand our game. That's why he didn't play in the first match. In the second he got a little bit more time.
"In the third, he had already spent four weeks with us so he had a good time to understand the concept and his team-mates. So at this moment, he is completely re-integrated with the team," Deus stated.
Bengaluru are in a precarious position with first choice custodian Gurpreet Singh suspended while Abhra Mondal is sidelined with an injury but Reus was unwilling to accept that it would be an advantage for his side.
"The advantage would be if they played without a goalkeeper but that won't happen. They will play with a goal-keeper. To be honest, I don't care about it, I only think about my team," he said.
The outfit's good run with regards to injuries continued with Reus saying that he had a fully fit squad to choose from.
"Everybody is fully fit for this game as it was in the last match," the tactician said.
The 41-year-old acknowledged that the visitors have been threatening with set-pieces in the league so far but said that his men would be ready for the challenge.
"We know that they are strong with set-pieces having scored a lot of goals from them. Erik Partaalu has scored three from set-pieces already. Probably tomorrow they will try something new with the set-pieces but we will prepare the best we can. Not only for the defensive set-pieces but also for the offensive set-piece," he said to conclude.