Indian Super League
ISL 2017: Delhi Dynamos' Albino Gomes - Players must get a chance to pick teams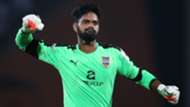 Albino Gomes has voiced his concerns over the draft system which allows teams to pick players as opposed to the other way around. He stated that for the player to produce optimum performance, it is vital that he loves the environment of the club and its ambience.
"Because of the new teams they (the ISL) conducted the draft. It's normal for us. Whatever the league decides we have to agree. Players should get a chance to pick teams. They must like the team to perform better," he mentioned.
On being asked to share his thoughts on the difference between the Indian Super League (ISL) and the I-League, Gomes was livid in his assessment.
"In the ISL, the facilities are better. In the I-League, we don't get good facilities. The training ground and other facilities are good in the ISL," he opined.
Gomes was questioned whether Bengaluru FC in particular would be a threat and are the team to beat to which he replied in the negative.
"I don't think so. Every team is good. Let's see. I hope we perform against every team and win."
He spoke of his desire to win every home game in Delhi, a feat which we achieved at Aizawl FC last year in the I-League.
"We play according to what our coach says. We have understand each other well. We have to adapt to the style.
"The fan base of Aizawl was strong. We were unbeaten at home thanks to our fans. At Delhi Dynamos too, we'll try to win all matches. We expect fans to support us. We will try our best to entertain the fans. I'll give my best this time and get a chance in national team. That's the target for me."
When asked to pick a particular team he is keen to face, Gomes replied, "Personally I am looking forward to play FC Goa as it is my home."
The air pollution in Delhi has hit alarm bells with World Health Organisation (WHO) claiming that the national capital is the world's second most polluted cities in the world. 
"It's not that big a problem.  We were given masks in training. Now the situation has improved."